Barbados: a must see
Hello there! Thanks for stopping by our blog, Carnivalista Lifestyle a blog where we help busy, professional women discover new cultures, attract what they want, love themselves and be comfortable in their own skin. And this week's blog is about our top 3 Barbados must see attractions!
Where is Barbados?
Barbados is located near the bottom of the Caribbean chain of islands and is one of the Eastern most islands in the Atlantic Ocean.  It's located just south of the principal hurricane zone and enjoys a warm climate year-round.
What must you see in Barbados?
We tried to organize this into the more unique aspects about this beautiful little island and came up with 3 things that you must see.
Barbados

 

must see #1 – Bridgetown
Why Bridgetown, Barbados' most beautiful and largest city?  Because there are so many things to do within this area.  There's a little bit of Barbados must see for everyone! 
In general, the word on the street about Barbados is that it's very family friendly and it has a very low crime rate.  So, that means unlike a few other Caribbean countries, you can experience the capital city of Bridgetown and feel very safe. 
Now that we've gotten the safety concern out of the way, here's what you must see in Bridgetown: 
Stroll in and out of historical buildings in the British colonial style.  It's a UNESCO World Heritage site!

 

Visit the horseracing track.  Try your luck!

 

Go people watching in National Heroes Square.

 

Walk around the city and view its many bridges, especially the Chamberlain Bridge (it is named Bridgetown after all!).  Get your souvenirs at the Bajan shops next door.

 

Grab a beach chair at Carlisle Bay.  Don't forget your pineapple cocktail and cutters sandwich 😉
Get your trip essentials and more at the Cheapside Market.  It's right next to the General Post Office and offers the freshest fruits, fresh coconut water and other local delicacies.  This is also a great place to grab souvenirs, hats, artwork and other things.

 

Lastly, to get your drink on, the Mount Gay Rum Factory is nearby.  Taste their delicious rum punch upon arrival, experience a rum tasting and purchase one of the world's finest rums at prices cheaper than duty free!

 
See why Bridgetown is #1 on our list of Barbados must see attractions?  You can pretty much go to Bridgetown every day of your trip and experience something completely different. 
Barbado

s 

must see #2 – 

Crane Beach
Named 1 of the top 10 beaches by Lifestyles of the Rich and Famous, there are a couple of things that are really cool about visiting Crane Beach that make it a Barbados must see.
The first thing is how you get to the beach.  There's a staircase to bring you down the pink sand (yes, it's a light pink tinge and this is better seen in the afternoon hours).  But, why take the stairs when you can take a glass front elevator down the beach?  It's the only 1 of its kind in the Caribbean.  It's pretty cool to take it down to the beach while taking pics or videos to make your Instagram following jealous! 
Secondly, the sand is quite fine and soft and access to the beach is free.  If you like, you can get the restaurant located nearby to bring you drinks or food.  Of course, that's not free, but treat yourself!
Crane Beach is very swimmable depending on what part of it you're on.  However, because it's closer to the Atlantic Ocean, there can be strong currents.  If you're not a strong swimmer, stay in the shallow end! 
Okay, let's get into Barbados must see #3.
Just 1 of the animals you can see up close and personal in #
Pink flamingos, multi-colored parrots, azure-sapphire peacocks, green monkeys?  Oh my! 
The Barbados Wildlife Reserve is for you if you're into animals and supporting endangered species.  In addition to the animals mentioned above, you can also see reptiles and birds, some of which are endangered. 
The most popular animal by far are the green monkeys.  Be sure to visit around 2 o'clock to see them and the other animals feeding.  The Barbados Wildlife Reserve is really a reserve, so some animals are enclosed and others are not.  They come and go as they please! 
Those are our top 3 Barbados must see attractions.  Hope you enjoyed our list! 
Fun fact: Barbados has pure drinking water and was the first Caribbean island to have piped water.
And here's one more thing…
We have a little video for you about our Barbados travel dreaming.  Take a look! 
Want to see Barbados for yourself?
If you'd like to experience any of the Bridgetown attractions we mentioned in this blog, then why not join us for Ultimate Crop Over?  Ultimate Crop Over is our annual group tour where you get to be a part of Barbados' amazing Carnival, also known as Crop Over. 
To learn more, click here! 
Leave us a comment below: which attraction sounds interesting to you? 
Thanks for reading.  As always…
Til de next lime,
Esha and Tarik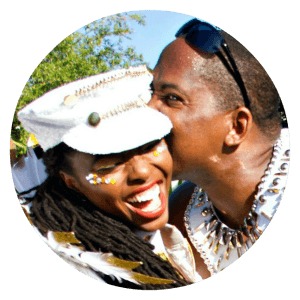 About Esha and Tarik:  Founders of Events by Ashé, a company that provides unique and life-changing Caribbean Experiences, Esha and Tarik are passionate about the Carnival lifestyle.  They even met during Trinidad Carnival back in 2006!  They are so passionate about Carnival that they created Ultimate Trinidad Carnival and Ultimate Crop Over to share these experiences with hundreds of clients around the world.  Click the links below to learn more!
Or call us at (919) 697-8772
You may also like: