Ultimate Summer Carnival
De "sweetest summer festival" you'll ever experience - Grenada Carnival!
Download Your Ultimate Summer Carnival Checklist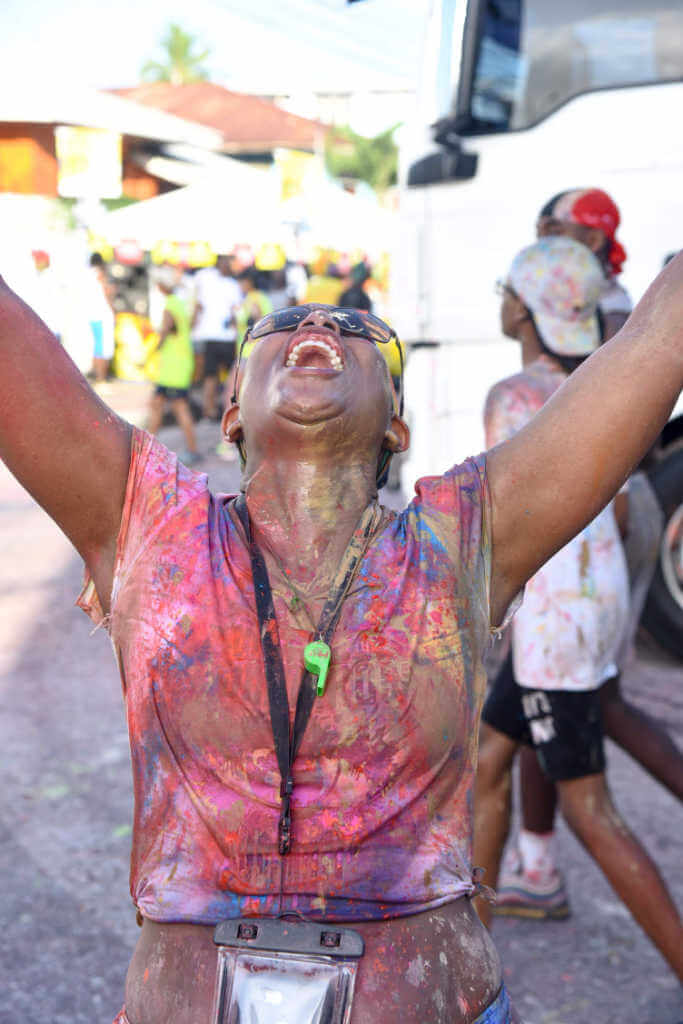 It's time to eat, drink and get dutty with us at Grenada Carnival
Work | Fête | Lime | Repeat
You no longer have to worry about missing out on best-kept secrets because we do all of the planning for you.
Curated by your travel hosts Esha and Tarik, we deliver an authentic Grenada Carnival excursion with memories of a lifetime.
When you travel with us, you can expect an exhilarating time filled with food, fun and friendship!
Here's a sneak peek of what you can expect:
Luxury, all-inclusive, oceanfront accommodations on the white-sand beaches of Tamarind Bay in Grenada

Costume pickup, delivery and fitting so you don't have to run all over town

All of your party (fête) tickets and event access coordinated on your behalf

Grenada Carnival Survival Kit so you can easily survive your summer carnival experience

A photoshoot in your beautiful costume, so you are IG ready
We also do the research and fully host you during your stay so you can let loose in a safe group environment!
Meet your Grenada Carnival hosts
In addition to our team of Ambassadors who will travel with you, we'll be your main hosts during Ultimate Summer Carnival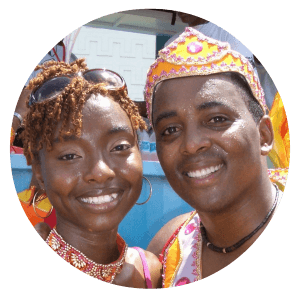 Esha and Tarik Davis
Co-Founders, Events by Ashé LLC
We met during Trinidad Carnival in 2006 while playing mas. Yes, we were both in costume; this photo was taken when we actually met!
Once we started dating, we talked about our first Trinidad Carnivals. That's when we realized that there were others out there like us who wanted to experience this amazing festival, but were unsure how to get party tickets, a costume or even secure a safe place to stay in a foreign country.
That's when our 1st Experience, Ultimate Trinidad Carnival was born. Ultimate Summer Carnival and Ultimate Girls Getaway soon followed!
Our purpose is to inspire confidence and remove all of your worries by taking care of everything. This gives you the freedom to let go and have fun in a drama-free environment.
With us, there's no planning or coordination required from your end. All you have to do is buy your flight, pack and show up at the airport! We'll handle the rest.
We are real people and our business has an A+ rating with the Better Business Bureau, so you can trust that we're a credible business. As the ONLY fully hosted summer Carnival package provider, our top priority is your safety.
Also about us: we love to have a good time and love to party but we also like to "lime" on de beach!
Don't just take our word for it…
Read what our customers have to say
"I loved how everything was done for me and I didn't have to stress out about things! I also loved the music, dancing and meeting new people."
"My travel experience was absolutely wonderful! Esha and Grace were always making sure that the group was enjoying this memorable, life-changing journey. All anyone has to do is buy their plane ticket, pick their costume, pack their suitcase and get ready to have the Ultimate Summer Carnival Experience."
"Limerz Cruise followed by the beach party was my favourite memory of entire trip. I liked the pace of the activities on this trip because it allowed for adequate rest time in between. I love my sleep!!!"
Stay tuned for de next Ultimate Summer Carnival!
Get in touch about Grenada Carnival
Contact us via our form below or call/text us at (919) 697-8772
We'll send you our Ultimate Guide of Getting to and Surviving Carnival (it's free)!