Friday Facebook Live: how to make more money in 2021 and beyond
Hello there!  It's your girl Esha here and welcome to our blog Carnivalista Lifestyle, our blog where we help busy, professional women discover new cultures, attract what they want, love themselves and be comfortable in their own skin.  Today's Friday Facebook Live was all about how to make more money in 2021 and beyond.
If there's anything…
That the pandemic has taught me, it's that multiple streams of income are very important!  Let's say one of your intentions this year is to make more money, then this is even more important for you.
Watch on to learn more:
What are the 3 ways to make more money in 2021?
#1: Get a raise
I started off with this one because most of us work for a pay check from someone else.  There's no shame in this at all!  But, if you want to know how to make more money in 2021, this is where you start.
This is especially if you've been in your role for quite some time without any kind of increase.  If you don't ask you're leaving money on the table.
The reality is, as you continue to work in your job, you get more proficient at it.  You may have gained some new skills that you apply at your work.  You may have completed a degree or other advanced education.  Document all of this and set up a meeting with your manager.  This is what's called a Business Case – you're going to present this to your manager.
But before you do all of that, have a number in mind.  Take a look at other pay ranges or pay scales out there for your position and let that inform what you'd like to ask for.
Do not and I repeat, do not set up a meeting with your manager without a Business case and a number in mind!  Do a little research and be prepared for your meeting.  It'll pay off!
#2: Start a side hustle
I start this with a cautionary note.  Starting a successful side hustle is not as easy as some people make it seem.  Personally, my business was a side hustle for many years before it was full time for me.
Making more more this way is a lot of work! You need to be organized and driven to have a side hustle and make money from it.
If you'd still like to proceed, the easiest way to get started is to think about what you already do and see if you can monetize that.
You can also join another existing company as an independent contractor.  And speaking of joining an exisiting company…
We're opening up 4 spots to work with us – Events by Ashé – directly as a travel agent in 2021.  But, hurry.  We currently already have 2 people who have applied for consideration.  We're offering mentoring, training and the usage of our exisiting resources and support to make you successful.
The travel industry is about to explode and I'm already seeing it happen!  If you want to be ready for this explosion, then set up a free, no obligation session with me to see if we're a good fit for each other.  Click here.
#3: Close more sales

Now the 3rd way to make more money in 2021 and beyond is to close more sales.  This one is for you if you have an existing business or side hustle.  It can also apply if you're just getting started.
In getting ready to do this Friday Facebook Live, I heard a quote in an audiobook I was listening to and it said, "The quickest way to make more money in your business is to convert more prospects."  And this quote was in reference to not getting more people to BUY.  It's about getting the people who already know you and what you do to buy or to buy more.
Now this requires you to get clear about who you serve, take a look at your sales process and at what's called your conversion rate.  Your conversion rate is how many people find you about you, who you talk to about what you do and how many of them buy.
Chances are you have people around you who are ready to buy but you haven't demonstrated your value to them or you haven't asked for the sale or your buying process isn't clear.
If you're thinking, "But, they know how to buy from me!", then I urge you especially to look a little closer at your buying and closing process.
And there you have it! 
Hopefully, you've gotten a fresh perspective on how to make more money in 2021 and beyond.
Don't forget if you're thinking about making more money this year from travel, then set up a free, no obligation session with me to see if we're a good fit for each other.  Click here.
Now over to you: Were these tips helpful?  What questions do you have about making more money in 2021?  Tell me in the comments below.
Thanks as always for reading!
Til de next lime,
Esha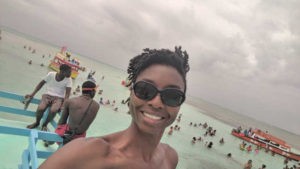 About Esha:  As an event planner and travel curator with over 20 years of experience (whose been to 5 out of the 7 continents), Esha's helped professional women who don't have the time, energy, or resources to plan their own vacations so they can travel and enjoy unique, life-changing Caribbean experiences. Click the links below to learn more!
You may also like: