Tobago travel dreaming: in video
Hi there!  Esha and Tarik here of Events by Ashé and thanks for stopping by Carnivalista Lifestyle!  Carnivalista Lifestyle is your connection to Caribbean travel, food, music and of course, Carnival!  And while we're not physically travelling yet, we're taking you experience Tobago travel (virtually) today.
Never heard of Tobago?  It's a little slice of paradise!  The sister island to Trinidad, it's located all the way at the bottom of the Caribbean, off the coast of South America.
But, before we get into some Tobago travel dreaming, we hope you're well and safe in your part of the world.  The coronavirus has us all off balance lately, but our aim is to put a smile on your face and give you something to look forward to!
On to the Tobago travel dreaming…we've put together a quick video for you.  It's just a few of our fave photos and footage.  We really miss Tobago so much watching this video, but it still puts us in a positive mood every time we watch it!
Enjoy!
If  you liked what you saw in this video, then you'll definitely love to join us – in person – at the next Tobago Love Experience!  Join us at one of our fave destinations in the Caribbean.  Click here to find out more information.
Up next:
You might also want to join Esha for her next Friday Facebook Live.  Be sure to like our Facebook page to get a notification when it happens!  Click here.
Til de next lime,
Esha and Tarik
*sigh* this was us in Tobago…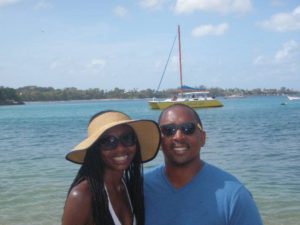 About Esha and Tarik:  Founders of Events by Ashé, a company that provides unique and life-changing Caribbean Experiences, Esha and Tarik are passionate about the Carnival lifestyle.  They even met during Trinidad Carnival back in 2006!  They are so passionate about Carnival that they created Ultimate Trinidad Carnival and Ultimate Crop Over to share these experiences with hundreds of clients around the world.  Visit our website or click the links below to learn more!
You may also like: