It's here (after all of the hard work).  It's here (after all of the edits).  IT'S HERE! 🙂
Your girl Esha's here and I'm so excited to announce that my book is finally here!
In case you didn't know, I recently co-authored an international best-selling book – Own Your Purpose & Realize Your Infinite Potential: Experts Recount Their Adventures to Success –  and now, my second book, Carnivalista Lifestyle: Joyous Self-Development for Hard Working Professionals and Entrepreneurs is now available for your reading pleasure in both paperback and Kindle versions.
How exciting!
Since launching, I've been getting some wonderful questions about my book.  And I thought you might have the same questions, so I've compiled a few of them here – just for you.  Check them out below:
What was the inspiration for your book?
I love this question!  The inspiration for my book actually came from a dream that I had a few years ago.  Watch my video below where I go into detail (it's short, I promise):
What is writing a book like?
Honestly, the only thing I can liken writing a book to is having a baby (lol)!  What initially starts as a mere figment of your imagination, gains in momentum and becomes more real as time goes on.  It's hard work, trying, tiring and anxiety-inducing at times, but well worth it in the end.  If you're thinking about writing a book, plan on it taking over your life for at least a year!  Luckily for me, I had DP Publishing working with me to bring it to life, so I didn't have to be in the publishing weeds too much!
What's the journey that you'll take me on as I read your book?
Carnivalista Lifestyle is part journal, part love story (about Tarik and I) and all real lessons that I learned while working on myself.  Hopefully, while reading my book you'll be taken on a joyous self-development journey, just like me!  See the video below for more about that:
What transformation will I experience while reading your book?
When I think about my love of books, transformation is one of the things that I value the most!  To make it even easier for you to understand what will happen to your life as a result of reading my book, I've created another video for you:
I hope these FAQ's were helpful to you!  Still have questions?  Add them below; I'd love to hear from you.
To purchase Carnivalista Lifestyle, see the links below:
(For Readers in Australia)
Don't see your country listed here?  Contact us and we'll get the correct link to you.
Thanks as always for reading!
Til de next lime,
Esha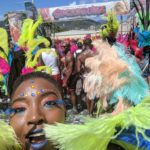 About Esha:  As an event planner and travel curator with over 20 years of experience (whose been to 5 out of the 7 continents), Esha's helped professional women who don't have the time, energy, or resources to plan their own vacations so they can travel and enjoy unique, life-changing Caribbean experiences. Visit our website to learn more or click the links below!
You may also like: