Throwback Thursday: My first experience
Today is Throwback Thursday and we thought it would be nice to take a trip down *recent* memory lane to Trinidad Carnival 2019.  If you want to know more about Trinidad Carnival for beginners, then here's what our client Francesca had to say about her 1st Trinidad Carnival Experience with Ultimate Trinidad Carnival!
"I had an unforgettable Trinidad Carnival experience. I felt safe, I felt well informed and I felt like I was part of a family.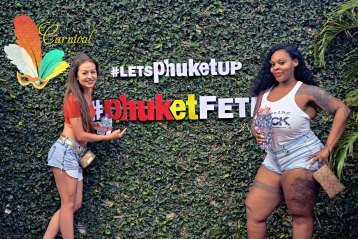 Starting out our experience with our first fete, Phuket, it was a great opportunity to connect with others in the group. Once you traveled to the location, then you get there and it's this amazing venue on the water with beautiful views.  Tarik is there with your wristband to give you access. And it's essentially VIP access because we got there and walked right in.
I love the way the event was laid out and designed; the great colors, the photo ops, the prosecco on tap, the self-service bar, all of the food options…it was everything that you expected and wanted a fete to be. And for me, it really set the tone for the rest of the experience.
Then, you had somewhat of a different experience with Sunnyside Up in that you're leaving in the wee hours of the morning. You're excited again and you're there to party as the sun is coming up. It had great food options; the alcohol was wonderful; it was my first experience with corn soup which was exceptional.
And then you also had your live performances so you had the opportunity to really have a good time dancing!  And you see Machel, you see Mr. Killa, you see these artists that you've heard of but had never seen live.  So, that buildup and the expectation for Sunnyside Up was just amazing for me. Such a great opportunity, great experience and would definitely look forward to that again."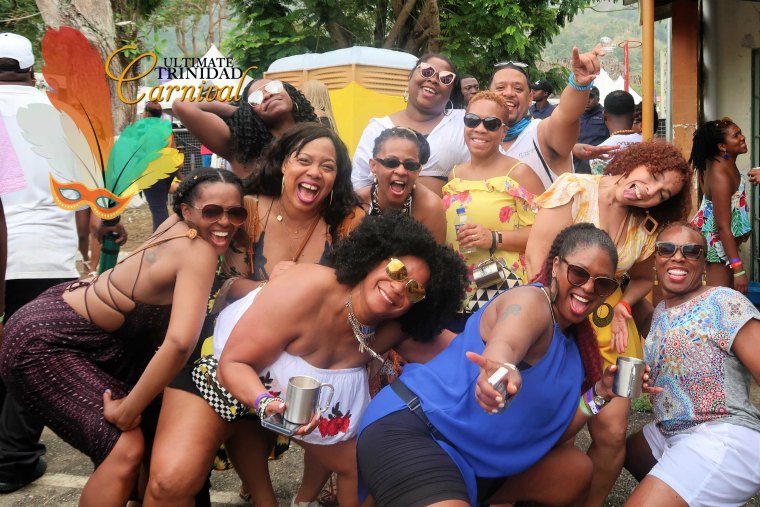 More about Trinidad Carnival for beginners…
"I chose UTC because I wanted an itinerary that built in the opportunity to relax and take in other parts of Trinidad. So, going to the beach was a great way to do this. [While there] I'm having the bake and shark; the delicious bake and shark. It's the opportunity to just relax and kind of get your mind and body ready for what's to come with J'ouvert and Carnival.
Words can't really express or describe how I felt with J'ouvert and how I felt after J'ouvert and leading up to J'ouvert. The excitement of getting up early in the morning and then when we arrived at the starting point for J'ouvert, we were greeted by Terry and this wonderful food. So, [I'm] just giving you an idea of how the UTC team thought out the entire experience. So, we were able to grab something to eat, walk around and just take in the sights and sounds and really the vibes at J'ouvert.
Folks were walking around with paint bottles, you were able to grab your rum punch, listen to the DJ who's really getting the crowd excited and then you get on the road and it's like one big family. It is everything that you wanted it to be, it is everything that you heard [about]. It really solidified why everybody says J'ouvert is there favorite experience or favorite part of Carnival. It's liberating, it's fun and it was just the highlight.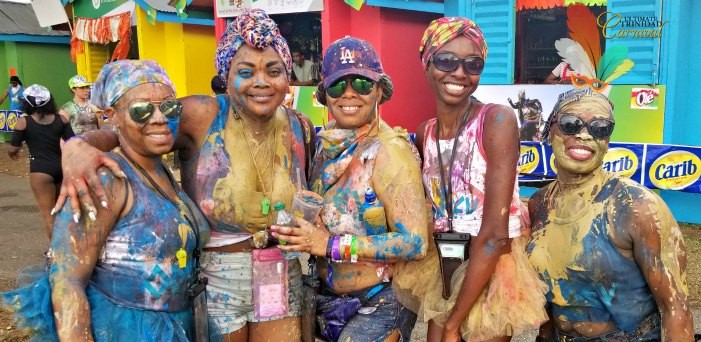 And then [it was] Carnival Tuesday. I felt like I looked like a million dollars and I felt like everybody looked like a million dollars in that they looked beautiful and the costumes just came together nicely.  And then you arrived at The Socadrome and everyone is so excited. You see everyone around outside, walking around and walking to the stage area. You're excited because again it's Yuma!  Then you go across the stage oh, it's just something that you have to experience. I just can't – you just can't describe it more.
Crossing the stage and smiling and laughing and dancing and whining and just having a great time!  And after the stage, you get on the road and prepare for the time of your life. It was just an amazing experience and I'll forever appreciate having the opportunity to attend and also meet everyone that's a part of the group. I made great friends; friends who I know that I'll have for a lifetime. And working with the UTC team was just a wonderful experience."

Wow!  We're blown away by Francesca's account of her 1st Ultimate Trinidad Carnival Experience!  AND because we know that just words cannot do Trinidad Carnival justice, click here to check out the video.
Trinidad Carnival for beginners can feel overwheling, which is why we created Ultimate Trinidad Carnival!
If you'd like to experience Ultimate Trinidad Carnival for yourself, click here to visit our website.
Til de next lime,
Esha and Tarik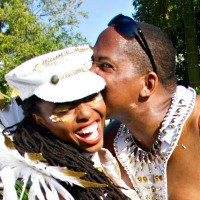 About us:  Founders of Events by Ashé, a company that provides unique and life-changing Caribbean Experiences, Esha and Tarik are passionate about the Carnival Lifestyle.  They even met during Trinidad Carnival back in 2006!  They are so passionate about Carnival that they created Ultimate Trinidad Carnival, Ultimate Girls Getaway and Ultimate Summer Carnival to share these experiences with hundreds of clients around the world.  To learn more about them visit their website or click the links below:
 You may also like: