Barbados travel dreaming – reason #5
Hey there!  Thanks for visiting our blog.  Like us, you're probably ready for a little Barbados travel dreaming.  In light of everything that's going on, consider this blog your little break to bring a smile to your face.
With that in mind, we're going to count down with you over the next 5 days – reasons #5 to #1 – about our fave reasons to travel dream about Barbados.
And if you'd like a little something to look forward to yourself, then you can check out Ultimate Crop Over!
Wait.  You don't know about Crop Over?  It's not only called "de sweetest summer festival", but it's also Barbados' Carnival, signals the end of the harvesting season (hence crop over) and it's held on the beautiful island of Barbados.
As if those weren't enough reasons for you to go there, let's get back to that travel dreaming…and into the countdown.
Reason #5 – your fine dining experience awaits
Cheers to the good life!  While you're already dreaming about the day when you can eat out in a restaurant anywhere, let's add to that Barbados travel dream.  Imagine eating at a waterfront restaurant, where the beautiful blue ocean stretches out in front of you.  You're sipping on champagne and tasting delicious seafood or pasta, freshly prepared and served with a smile.
You don't have to dream about it anymore.
When you book your Ultimate Crop Over spot, we're taking you to the ultimate brunch experience at Tides Restaurant, located on the Gold Coast of Barbados.  In case you didn't know, the Gold Coast is where Rihanna's mansion is located 🙂
The Tides Restaurant is one of Barbados' premier fine dining experiences.  Once you walk into the dining room, the view is what hits you.  The sun is glimmering off the clear blue waters alongside the white sand.  The view is one of the best parts of this experience!
Ready to go?  Click here to visit our website and to see our packages.
Next up: Barbados travel dreaming – reason #4!
Til de next lime,
Esha and Tarik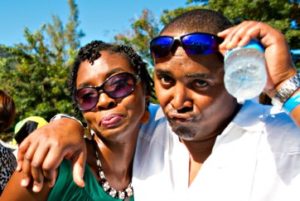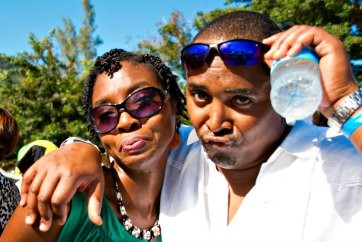 About us:  Founders of Events by Ashé, a company that provides unique and life-changing Caribbean Experiences, Esha and Tarik are passionate about the Carnival lifestyle.  They even met during Trinidad Carnival back in 2006!  They are so passionate about Carnival that they created Ultimate Trinidad Carnival and Ultimate Crop Over to share these experiences with hundreds of clients around the world.  Visit our website to learn more or click the links below!
You may also like: