Happy Friday!  Virtual events and other updates…
Hey, it's your girl Esha here.  Thanks for stopping by our blog and I hope you're well and safe in your part of the world.
And in this blog, I'm sharing a Facebook live that I did today, in case you missed me.  I'm chair dancing and singing along to "Cheers to life" by Voice (off key I might add), talking about weekend plans and our upcoming virtual events.
Hope you enjoyed that!  Here's how you can get connected:
Visit our Facebook page to find out about all of our upcoming events – click here
As always…
Til de next lime,
Esha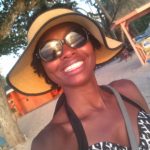 About Esha:  As an event planner with over 20 years of experience (whose been to 5 out of the 7 continents), Esha's helped professional women who don't have the time, energy, or resources to plan their own vacations so they can travel and enjoy unique, life-changing Caribbean experiences. Visit our website or click the links below to learn more!
You may also like: