Becoming an author and the importance of telling your story
Hello!  It's your girl Esha here.  Thanks for visiting our blog, Carnivalista Lifestyle.  If you're thinking about becoming an author, then this week's blog is just for you!
It was just over a year ago that I published my second book, Carnivalista Lifestyle: Joyous Self Development for hardworking professionals and entrepreneurs.
Recently, I was invited and was so grateful to revisit that journey during a popup podcast live with author Monique Tuset.  Our conversation turned into a lively, insightful and uplifting discussion and of course, I'm sharing it with you.  Here's the recording of our time together last week:
If you prefer to listen to the podcast, click here.
Here are the links to what we talked about in the video.  Please support if our becoming an author discussion was valuable to you:
Thanks as always for reading!
Til de next lime,
Esha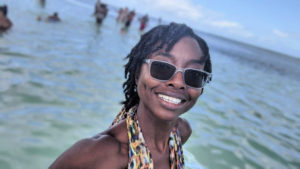 About Esha:  As a travel curator and event planner with over 20 years of experience (whose been to 5 out of the 7 continents), Esha's helped professional women who don't have the time, energy, or resources to plan their own vacations so they can travel and enjoy unique, life-changing Caribbean experiences. Click here to visit our website or the links below to learn more!
You may also like: