Friday Facebook Live: what is Crop Over in Barbados?
Welcome to our blog!  Phew, the end of another week, right?  It's your girl Esha here and although my Friday Facebook Live didn't happen exactly how I wanted it to (I'm looking at you Facebook!), today I continued with our August theme of Barbados!  I recently got the question, "What is Crop Over in Barbados?" and thought a video about this amazing festival would be a good thing.
So, here you go!
As I mentioned in the video, Crop Over in Barbados is a colourful, dizzying array of events and the most fun you can have anywhere in July or August!  Also known as Barbados Carnival, Crop Over in Barbados is fantastic.
Now, if you're thinking Carnival = the cruise ship, that's not what I'm talking about here.  Carnival refers to Caribbean Carnival, which happens throughout many islands in the Caribbean as a celebration of various things.
For example in Barbados, Crop Over started as a celebration of the end of the harvest season, hence "Crop Over".  And while there are elements where Crop Over is similar to other Carnivals throughout the Caribbean, I think there are many that are unique and different on this beautiful island.
So what's similar?
Crop Over in Barbados has many similar elements to other Caribbean Carnivals.  All of these involve dancing to soca music and are:
Parade of costumes: also known as Kadooment Day, Crop Over in Barbados has a parade of beautiful, feathered, beaded and elaborate costumes that locals and tourists alike wear to dance through the streets!  Who wouldn't want to do that?
Dirty and muddy street party: also known as Foreday Morning.  I love, love, love Foreday Morning in Barbados.  It's the true embodiment of freedom and always gets me dancing and moving without abandon!
Of course, the parties!  During any Caribbean Carnival, there are sure to be many, many parties to choose from.  In Trinidad and other French speaking Caribbean islands, these are known as "fetes".  Imagine some beautiful outdoor scenery, throw in an open bar, some delcious food, addictive soca music blasting and you have a true Caribbean party!  They happen all over Barbados during Crop Over time.
Here's what's different
See those amazing parties that I mentioned earlier?  Put that on a boat, yacht or catamaran sailing on the beautiful, blue Caribbean Sea!  That's what you get in Barbados that's different from other Caribbean Carnivals.  I feel this is truly unique and worth visiting Crop Over in Barbados.  Seriously.
What's also different in my opinion is taking ALL of this and adding to it the sheer natural beauty of Barbados!  In between all of the partying, you can take a break to visit one of the many white sand beaches or just drive around the island stopping at the rum shops (bars) along the way.  Take in all of the scenery; you won't regret it.
Wanna come with us next time?
If reading this you're convinced that Crop Over in Barbados is something you'd like to try, then why not join us for our next Ultimate Crop Over experience?  In addition to taking you to all of the similar Caribbean Carnival activities I mentioned, you'll also get what's different: have a fine-dining brunch on the Gold Coast, a visit to the Mount Gay Rum Factory, a day trip to Carlisle Beach (coconut cocktail anyone?) and so much more!
Find out more about our next Ultimate Crop Over Experience by clicking here to visit our website.
Want to learn more about Barbados?  Click here to contact us.
Thanks for reading!
Til de next lime,
Esha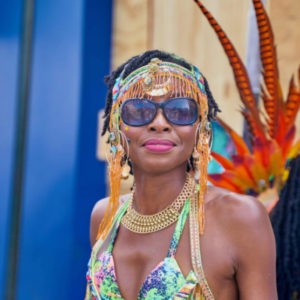 About Esha:  As a travel curator and event planner with over 20 years of experience (whose been to 5 out of the 7 continents), Esha's helped professional women who don't have the time, energy, or resources to plan their own vacations so they can travel and enjoy unique, life-changing Caribbean experiences.  Visit our website or click the links below to learn more!
You may also like: