Barbados: what to do there
Thank you for stopping by our blog, Carnivalista Lifestyle!  It's your girl Esha here.  And today, I'm sharing my Friday Facebook Live during which I talked about Barbados: what to do there.  My focus for this vlog was to highlight 3 truly indulgent things to do on this beautiful island.  Ready to watch the video?  Let's go!
#1 of Barbados: what to do there ~ treat yourself to a fine dining experience
Good food isn't hard to find in Barbados.  And I highly recommend while you're there, you experience a little bit of the good life by having a fine dining experience.
There are several fine dining options along the Gold Coast of Barbados such as Lonestar, The Beach House and The Tides Barbados.  If you'd like to save money but want to take in the ambience and have a quick bite, then go for lunch or visit these restaurants for a drink and appetizers!
#2 of Barbados: what to do there ~ get thee to a spa
The ultimate in indulgence is some spa time for you in Barbados.  Again, there is no limit to amazing options in this category.  From the international award winning The Spa at Sandy Lane to the Eforea Spa, which has the first quartz sand bed in the Caribbean, you're sure to find a spa destination that will fit your budget and your preferences.
#3 of Barbados: what to do there ~ take trip down Sandy Lane
I know, I know, I mentioned Sandy Lane before.  But Sandy Lane is so much more than just a spa!  There's a reason why several celebrities (including Ri Ri herself) have their homes in this gorgeous, sprawling slice of heaven.
If your budget requires that you stay somewhere else on the island, then you can visit and soak up the scenery at one of the many restaurants (try the afternoon tea) or if you're a golfer, then hit the greens and play a few rounds.  Neither of these options are cheap mind you, but I am talking about indulgent things to do in Barbados right?  Treat yourself!
Hope you enjoyed this!
If you're interested in viewing our Caribbean Virtual Vacations: Barbados, then why not become a member of our Ultimate Insiders+ family?  Upon joining, you'll get immediate access to this virtual vacation and virtual vacations to Trinidad, Tobago, Jamaica and St. Lucia.
Thanks again for dropping by…
Til de next lime,
Esha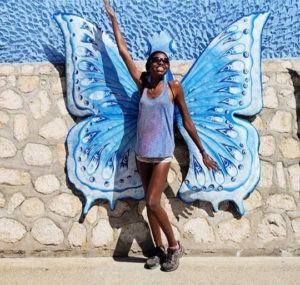 About Esha:  As an event planner and travel curator with over 20 years of experience (whose been to 5 out of the 7 continents), Esha's helped professional women who don't have the time, energy, or resources to plan their own vacations so they can travel and enjoy unique, life-changing Caribbean experiences. Click the links below to learn more!
Or call us at (919) 697-8772
You may also like: