A Mother's Day Lesson…and a celebration!
Hello and come eeeeen!  It's your girl Esha here and welcome to our Carnivalista Lifestyle Blog, where we help busy, professional women discover new cultures, attract what they want, love themselves and be comfortable in their own skin.  With Mother's Day around the corner, I've been thinking about motherhood, my own Mom and my village of aunties.  So, today's live was about sharing one Mother's Day Lesson with you and celebrating mom!
Check it out below:
Mentioned in the video:
One of my fave soca tunes, Roll it Gyal by Alison Hinds (de soca queen herself)!
If you'd like to buy a copy of my latest book Carnivalista Lifestyle for yourself or a special Mom in your life, you can do that on Amazon – click here.
And as I mentioned in my video, my Mother's Day Lesson is for you to do something to please – just – yourself!  And if any day is the day to do it, then Mother's Day is the day you will get some grace and a lil "bligh" as we Trinis say 😉
Now over to you: What are you doing for yourself or for a special Mom in your life?  Comment below!
Til de next lime,
Esha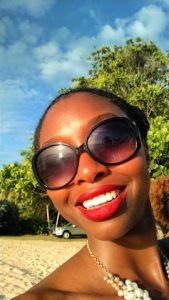 About Esha:  As an event planner and travel curator with over 20 years of experience (whose been to 5 out of the 7 continents), Esha's helped professional women who don't have the time, energy, or resources to plan their own vacations so they can travel and enjoy unique, life-changing Caribbean experiences.  You can visit her website for more information or click the links below to learn more!
You may also like: