How To Have More Fun In 2022
Since 2020 and 2021 were mostly not fun, I thought it would be good to talk about how to have more fun in 2022.  You remember fun right?
It's your girl Esha here and welcome to our blog.  Carnivalista Lifestyle is a blog about travel, food, getting your life together and de Caribbean Carnival culture.  In this video, I give you 2 tips to up the fun factor in 2022.  And it's all from the comfort of your own home (I promise).
Take a watch below!
How To Have More Fun Tip #1:
Plan it!  This tip shouldn't be a surprise since I'm a planner.  With just a little bit of structure, you'll actually have more freedom, have less stress and perhaps save money in the long run.
I especially recommend having a clear vision in your mind of anything that you would like to happen/achieve!
Now, I understand if visioning anything positive is a challenge right now.  If you need help with creating your vision for 2022, then join us for our Vision Board Experience in December!
By the end of the Vision Board Experience, you'll have a completed vision board ready to help you manifest what you want in 2022.
To register for this experience, click here.
How To Have More Fun Tip #2:
Give yourself permission to dream (a lot)!  After talking with a female entrepreneur who said she didn't know where she would travel to (pandemic and money aside), I realized that there are many of us who don't dream.
Unfortunately, the pandemic has only made more of us this way.
The funny thing about dreaming is, it doesn't require you to go anywhere physically.  All you need to do is allow your mind to be free and feel the joyful sensation in your body while dreaming of things that bring you real joy!  In my mind, dreaming is a necessity AND it's fun.
If you have especially lost your travel dreaming mojo, then stay tuned for our Travel Dreaming Challenge!  This will be a 3-day virtual event where we can all dream about travel again.
To be the first to join us in the next Travel Dreaming Challenge, join our mailing list; click here.
Other mentions:
My earrings.  These fabulous afro-pick earrings were purchased from Thanks I Made Them.  I am in love with them!  They're so lightweight and comfortable.  The colour adds a little pop to any outfit!
Fabric retailers in the US.  Sew Creative Lounge and Emerald Curtain Fabric.
I highly encourage you to follow all of these creative, inclusive and phenomenal women on Instagram; I've provided their IG links above!
Now over to you: Which tip are you going to do?  Let me know in the comments below!
Til de next lime,
Esha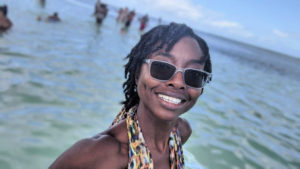 About Esha:  As an event planner and travel curator with over 20 years of experience (whose been to 5 out of the 7 continents), Esha's helped professional women who don't have the time, energy, or resources to plan their own vacations so they can travel and enjoy unique, life-changing Caribbean experiences.  You can visit her website for more information or click the links below to learn more!
You may also like: