Thanks for stopping by our blog Carnivalista Lifestyle! It's your girl Esha here and I'm excited to share my favorite soca tunes from 2019. In case you're not familiar with soca music, it truly is the soundtrack of Trinidad Carnival. This infectious music keeps your feet and waistline moving throughout what's called "the Greatest Show on Earth" – Trinidad Carnival! Let's get started.
Be warned, this is a long blog post. I just have so much to say about soca music this year!
I'm going to cheat a little bit…to sneak some more songs into my top 5, I've broken up my top picks into 2 categories – Groovy soca and Power soca. There was so much good soca music this year!
In my opinion, this was 1 of the best years in a little while. This post will focus on Groovy soca music, so allow me to explain…
Groovy soca music
The name says it all – meant for you to groove to, Groovy soca is a slower tempo rhythm. These are the kind of songs you can "hug up" someone and dance to. Not at all boring, with the right combination of lyrics and rhythm, Groovy soca can also make you jump and wave! Here are my top 5 Groovy soca picks for 2019 Trinidad Carnival:
#1 – *sigh* it's a tie! Trouble in de morning by V'ghn and Savannah Grass by Kes the Band
I have to be honest here. I couldn't pick just 1! These 2 songs were my absolute favorite soca music tunes for the 2019 Trinidad Carnival season. The lyrics in Trouble in de Morning by V'ghn were just on fyah! I loved the concept of the song and the chorus just made me jump, dance and "dingolay" every-single-time I heard it in Trinidad.
In my opinion, the video isn't the best one out there, however I still wanted to share it with you. Check out the video below:
Now, Savannah Grass has my heart. Every Trini who heard this song and watched this video just loves it. It's hard to explain, but I do know the first time I watched this video, it touched something inside of me – nostalgia perhaps? The images reminded me of a simpler time of life and parts of my childhood that were spent in Trinidad. Watching it for the first time, I was speechless and my eyes welled with tears. I was in my feelings for real! I had to walk away and come back to it later to take it in fully.
This song will always be my Road March pick for 2019 – even if it came second in the competition. Even if you don't have a connection to the images – know that the song is dedicated to Kes father who passed away last year. It's a beautiful homage to a man who truly loved Carnival and Trini culture. Enjoy!
Oh, and to add some more soca music faves in here, I gotta group them by artists. Special mentions for Kes the Band are Love it and Nah let go. He truly is de Groovy King!
#3 – Say No More by MX Prime (One on One project by Ultimate Rejects)
Although I didn't hear this song much during Trinidad Carnival, it didn't stop me from adding it to my top 5 list! I LOVE the lyrics in this song. Listen carefully – a potential boo is singing to someone he's been "checkin" for a while "I'm in front ah yuh door/say no more/An ah you me adore/say no more/Don't you know I'm yours/Say no more".
Add MX Prime's amazing voice on it plus Ultimate Rejects touching the track with their signature blend of electronic beats and ole time soca rhythms, it's a winner in my book. I also liked the other soca music songs on this riddim and especially LOVED Nailah Blackman's Talk. Below is a medley of all of them in 1 cute video.
Special metion of other Ultimate Rejects faves – Heat and Seek and Find.
#4 – Vent by Teddyson John
Even though this song was released early during the seaon, it continued to get lots of play during Trinidad Carnival time and I was extremely happy about that. This song is for everyone who has struggled with other people's opinions about them and how that impacts their life.
I myself have had this happen to me several times and as Teddyson says in this song "Ah telling yuh please doh judge me/God didn't put yuh to watch me/He doh like ugly, So tell them keep their eyes off meh"! Indeed. One of my fondest memories at Carnival this year is singing along at the top of my lungs during Lime @ the Hyatt. AND I got to meet him in person as I mentioned in my 2019 Trinidad Carnival recap – yay! Here's his video.
#5 – No distraction by Kerwin Du Bois
OMG – what can I say about this song! Everytime I hear it, the pores on my arms raise. Kerwin truly outdid himself with this one. One of the popular soca music theme/lyrics this year was instructing people to put down their phones and party (lol)!
In this song, Kerwin croons "No distractions when ah putting work on yuh/Yuh doh need no phone now/Leh we take dis back to love"…oh yes Kerwin! No actual video for this one, but take a listen below…
I have to make special metion of Black Starr with JuJu on this riddim – loved it! Kerwin also sounded phenomenal on Right for somebody – this song has a wonderful message; I highly recommend it. What riddim are you grooving to these days?
Phew – that's it for now. Next week, I'll share my fave Power soca music songs with you! AND I'll have a very special announcement…
Til de next lime,
Esha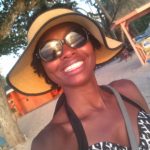 About Esha: As an event planner and travel curator with over 20 years of experience (whose been to 5 out of the 7 continents), Esha's helped professional women who don't have the time, energy, or resources to plan their own vacations so they can travel and enjoy unique, life-changing Caribbean experiences. Visit our website or click the links below to learn more!
You may also like: