Trinidad Carnival review (part 3): a Carnivalista's 1st experience
Hello, hello, hello!  Welcome to our blog Carnivalista Lifestyle.  Carnivalista Lifestyle is all about travel, food, getting your life together and the Caribbean Carnival culture  Perhaps you've been thinking about going to Trinidad Carnival and would like some tips and Trinidad Carnival reviews that you can count on.  Then you're in the right place!
Watch this video.  It's a conversation between 2 of our Ultimate Trinidad Carnival Ambassadors, Cecilee and Merate.  Merate talks about her own Trinidad Carnival Experience and also shares 3 great tips for 1st timers!
Check it out below:
Here are those 3 tips again:
Start working out.  If there's anything you'll definitely want to take away from a Trinidad Carnival review, it's this!  The Trinidad Carnival Parade is 2 whole days and is 13-15 miles long.  Like Merate says in the video, at the very least, start walking.  That will build up your stamina and get your legs stronger.  Trust us; you'll be thankful when yuh tek that first "wine down low" 😉
Pace yourself…this goes with any Caribbean Carnival, especially if you're a first timer.  The hot sun, alcohol and (ahem) vigorous activity like jumping and whining, do not mix!  Make sure you stay hydrated by having water or coconut water after EVERY alcoholic drink.  The last thing you want it to get sick so you miss any partying.
 Don't be self-conscious.  The is no body shaming or judgement at any Caribbean Carnivals and especially at Trinidad Carnival.  Every person who has given a Trinidad Carnival review to us has said this!  Whether in your short pants, crop top and all the way to your Carnival costume, be comfortable in your beautiful skin.  You deserve it!
Does a Caribbean Carnival sound like something you HAVE to get on your bucket list?  Then join us at:
When you come with us on any of these trips, we do all of the planning and coordination; all you have to do is pack and show up at the airport!
Thanks for reading and as always…
Til de next lime,
Esha and Tarik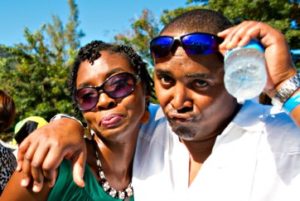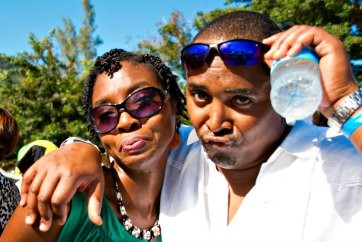 About Esha and Tarik:  Founders of Events by Ashé, a company that provides unique and life-changing Caribbean Experiences, Esha and Tarik are passionate about the Carnival lifestyle.  They even met during Trinidad Carnival back in 2006!  They are so passionate about Carnival that they created Ultimate Trinidad Carnival and Ultimate Crop Over to share these experiences with hundreds of clients around the world.  Visit their website by clicking here or click the links below to learn more!
You may also like: