Our Travel List – the October Edition
Come on eeeeen!  Welcome to Carnivalista Lifestyle, our blog about travel, food, getting your life together and the Caribbean Carnival culture.  Don't have a travel wishlist?  What are you waiting for?  If a lack of ideas is the reason, we definitely have a few for you here.  Our October travel list shares our virtual and in-person events.  Check it out!
Here's what you can add to your travel wishlist this month:
Events are listed here in chronological order.
Friday Live with Esha
Caribbean Carnivals 101: What To See, Do, Eat and Drink!
Mimosas and Making Connections
Ultimate Trinidad Carnival and The Tobago Love Experience 2023
Ultimate Crop Over 2023
Your travel wishlist should be looking a lot longer now!
Got questions?  Then you'll want to call/text us at (919) 697-8772 or contact us.
You deserve love, happiness and Carnival…
Til de next lime,
Esha and Tarik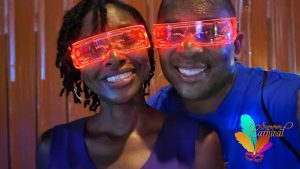 About Esha and Tarik:
Founders of Events by Ashé, a company that provides unique and life-changing Caribbean Experiences, Esha and Tarik are passionate about the Carnival lifestyle. They even met during Trinidad Carnival back in 2006! They are so passionate about Carnival that they created Ultimate Trinidad Carnival, Ultimate Summer Carnival and Ultimate Girls Getaways to share these experiences with hundreds of clients around the world. Check out more below or visit their website by clicking here
!
You may also like: