Our Travel List – the November Edition
Hello! Thanks for stopping by Carnivalista Lifestyle, our blog about travel, food, getting your life together and the Caribbean Carnival culture. If an events list is on your mind, then you're in the right place. Even better, we have events that you can travel to! 🙂 Below you'll find our virtual and in-person events. Keep reading to the end for a new Carnival Experience…
Here's what you can add to your events list this month:
Events are listed here in chronological order.
Friday Live with Esha
Most Fridays at 12:30 pm EST, join Esha on Facebook, YouTube and LinkedIn as she goes live to spread a little positivity, while talking about various topics like travel, food and the Caribbean Carnival culture. You'll be sure to get some info to add to your events list every week!
To get a notification of when Esha's live:
Ultimate Trinidad Carnival and The Tobago Love Experience 2023
We have 1 room left due to a cancellation, but it won't last forever.
Travel dates of Fri Feb 17 to Wed Feb 22, 2023 (plus the Tobago Love Experience until Sun Feb 26, 2023).
Get to the "greatest show on earth" on your events list; click here for package details and pricing.
Looking forward to Ultimate Trinidad Carnival 2024? Packages will launch in January 2023 so contact us to get on our mailing list; click here.
Ultimate Crop Over 2023
Almost 60% of our rooms are sold in Ultimate Crop Over 2023. It's back to Barbados for our next Ultimate Summer Carnival Experience…
Crop Over a.k.a. "de sweetest summer festival" will be epic! Everything is coordinated and booked on your behalf from your accommodations to your costume to your ground transportation.
Book now and take advantage of an extended Easy Payment Plan 😉
Travel dates of Thurs Aug 3 – Tues Aug 8, 2023.
For package details, FAQs, Easy Payment Plan info and more, click here.
Check out our video below for more details!
Ultimate Bago Carnival 2023
Hot off the presses is – Tobago Carnival! Let's whisk you away to sweet, sweet Tobago…
Trinidad's sister island is having their next Carnival experience in October 2023 and we cyah wait.
Similar to our other Carnival experiences, all you need to do is pack and show up. We'll handle de rest.
Packages will be launching on

Wed Dec 6

, so grab yuh crew, yuh frien' an dem and whoever you want to go with you!
Get on our mailing list for all the details when dey ready. Click here.
Events list good? We thought so!
Got questions? Then you'll want to call/text us at (919) 697-8772 or contact us.
Stay tuned for more…
Til de next lime,
Esha and Tarik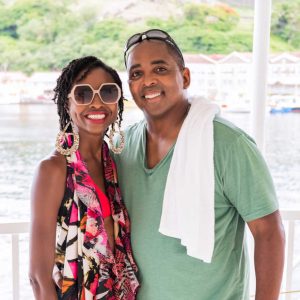 About Esha and Tarik:
Founders of Events by Ashé, a company that provides unique and life-changing Caribbean Experiences, Esha and Tarik are passionate about the Carnival lifestyle. They even met during Trinidad Carnival back in 2006! They are so passionate about Carnival that they created Ultimate Trinidad Carnival, Ultimate Summer Carnival and Ultimate Bago Carnival to share these experiences with hundreds of clients around the world. Check out more below or visit their website by clicking here
!
You may also like: