I want a FREE checklist to help me plan my Trinidad Carnival trip!
Unsure about all of the info out there?
Starting to feel overwhelmed?
Our checklist will help you make sense of it all!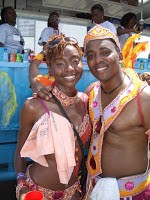 We're Esha and Tarik Davis and we've taken hundreds of people to experience Trinidad Carnival aka "de greatest show on Earth"!
Our checklist will  help you plan your travel adventure to Trinidad Carnival.
Simply fill out our form and it'll be on its way to your inbox.