Ultimate Trinidad Carnival experience 2020 – part 2
Hey, it's your girl Esha here.  I hope you're coping with these very challenging times.  I hope part 2 of my Ultimate Trinidad Carnival experience in 2020 will bring a smile to your face and *perhaps* be the bright spot of your day!
In this blog, I'm going to focus on the good and the better of Trinidad Carnival 2020.
And the good for me was Sunny Side Up, the breakfast party!
The good – Sunny Side Up
Firstly, a huge shout out to Sunny Side Up Events!  We've taken our clients to this breakfast party since the beginning of Ultimate Trinidad Carnival over 9 years ago.  And just when we thought it couldn't get any better, it did!
Everything was a step up from the décor to the restrooms and lounge area.  They really outdid themselves this year.
The live performances were fantastic!  It was non stop dancing from beginning to end.
Everyone brought their A game, including Problem Child and the Monk himself, Machel Montano.  Here's just a taste of Problem Child performing his 2020 hit "Nasty Up", which was played everywhere this year!
And since I went live everyday during the Ultimate Trinidad Carnival 2020 experience, here's 1 of the videos that I did in the VIP food court of the event.  Of course, we all had Penthouse tickets, which meant we had access to the Penthouse food court and top shelf alcohol at the private bars!
What was better than this?  The 2020 soca music!
The better – the 2020 soca music
Where do I start?  2020 was one of the best years of soca music, in my opinion.  And if for no other reason, I think it was because the quality of the power soca was sooooo good!  If my mention of power soca made you go, "Wait, what's power soca?", please allow me to explain.
Since the origin of soca music (which is the driving force behind all Caribbean carnivals) it has taken on many types.  One of these types is power soca, which is a more up-tempo version of soca.  This is the type of soca that makes you completely lose yourself and jump and dance during the Carnival Parade for miles and miles!
So…yeah.  As I was saying, de power soca was really good this year.  Starting with the Power Soca Monarch AND Road March hit "Stage Gone Bad" by Kes and Iwer George to DJ Private Ryan and Preedy's "No Standing Up", I feel all soca artists stepped up their power soca game in 2020, which is no easy feat.  And when you have good power soca, you have a very energetic Trinidad Carnival.
Enjoy this video of "Stage Gone Bad" by Kes and Iwer George.  Definitely THE song of the season in my book!
Hope you enjoyed part 2 of my Ultimate Trinidad Carnival 2020 recap!
Up next: my thoughts about what was the best at Trinidad Carnival in 2020.
Take care and stay safe until then…
Til de next lime,
Esha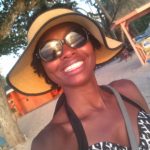 About Esha:  As a travel curator and event planner with over 20 years of experience (whose been to 5 out of the 7 continents), Esha's helped professional women who don't have the time, energy, or resources to plan their own vacations so they can travel and enjoy unique, life-changing Caribbean experiences. Visit our website or click the links below to learn more!
You may also like: