Hey there, it's your girl Esha here and thanks as always for stopping by our blog! As I mentioned in my Groovy edition, 2019 was one of the best years for soca music. Writing this blog was no easier than the first. Argh, to narrow the list down to just 5 songs??? There had to be *just* a little cheating involved (and no judgment, right?). Cool, I knew I could count on you! 😉
So…what's Power soca music?
Before getting into the list, in case you don't know what Power Soca music is, allow me to explain quickly. According to Wikipedia, the term power soca was coined in early 2005 by the International Soca Monarch organizers as a re-branding of the uptempo jump & wave soca style that took hold in Trinidad and Tobago during the early 1990s. This fast paced version of Soca music tends to appeal more to the younger generation of party-goers and those who love working out in the gyms getting fit for the Carnival season and playing mas. Calypsonian and soca artist Super Blue formerly known as 'Blue Boy' pioneered this style with his 1991 hit "Get Something & Wave".
Power soca of today is known for its high beats per minute (ranging from 155–163) and its aggressive drums/percussions and dark synths. It has transcended from its original sound of darkness into a more light and playful sound but has kept its foundation of fast-paced rhythms.
Ready to proceed? Okay, let's get into my fave Power Soca hits of 2019.
#1 – Pandemonium by Voice X Wuss Ways X Travis World
From the moment I heard this song when the trailer was released, it just grabbed me. The build up at the beginning to the climax of Thunda singing, "Ah say look at Pandemonium woi"; it's just sheer perfection from beginning to end! Luckily, Voice, Lil Natty and Thunda performed this magical song several times throughout the Carnival Monday and Tuesday parade – this girl was very happy!
#2 – Run Wit It by Mr. Killa (Planet Jab riddim)
Okay, okay, okay, I'll be the first to admit that I was slow to warm up to this tune. However, once I was on board, I was "runnin wit it" like everybody else in Trinidad! Honestly, I cannot remember a soca music song causing so much bacchanal since "Palance" in 2010 (and that was a long time ago lol. Am I aging myself???) For me, half of the excitement around this song was watching everybody else go CRAZY to it. I mean I saw men picking up women, women picking up men, people picking up a soccer goal post (yes, that was during J'ouvert around the Savannah), garbage bins, coolers, ANYTHING and EVERYTHING.
Mr. Rum was making everyone do crazy things and working overtime at it (lol)! In addition to all of this craziness, this song was banned from several fetes including Lime at the Hyatt. Lime said, "No. Allyuh not comin' in here wit dat foolishness! Yuh eh go run wit we Johnnie Walker Blue. Nah!" Hilarious! Seriously though, Mr. Killa had a well-deserved International Power Soca Monarch win. I think he would have also won the Road March title if a Grenadian could have been a contender (Road March can only be won by a Trini)!
#3 – Touch Down by Nailah Blackman and Fay-Ann Lyons-Alvarez
I think this song didn't get enough play during the Carnival season! The opposite sounding vocals of the Soca Princess Nailah and Soca Music Queen Fayann is the perfect blend for the bacchanal that this song represents. Every time I heard it this year, my hands were in the air, getting ready to jump when Fayaan shouted, "Let's go/Let's go". So much fun! Unfortunately, I wasn't able to find a video for this song; you'll just have to enjoy the vocals for now 😉
Special mention – Nailah Blackman and Shenseea's We Ready (Champion Gyal). Although not a Power Soca song, this was definitely one of my faves this year!
#4 – We now start to party by Super Blue X Machel Montano
Supa, supa, supa, supa…I truly loved this collaboration by Machel and Super Blue. It seems like they have something truly special going; this is the 2nd soca music hit in a row for them. Last year was the mega hit and Road March Soca Kingdom and now this song in 2019. For me, I describe this song as pure soca magic dusted with a little bit of a throw back to Super Blue's hits in the 90's. Tell me what you think!
#5 – Famalay by Skinny Fabulous X Bunji Garlin X Machel Montano
The truth about this song is, it was everywhere at Trinidad Carnival! Do I think it should have won Road March this year? Ummmm, no. (Yeah, I said it). I do think it was a great soca music song, don't get me wrong. But…Savannah Grass was better! (Rant over…) I love the video and the concept of the song where soca artists come together as family across the Caribbean towards a common goal – the promotion and representation of this glorious music genre worldwide!
Special metion (yep, cheating again) – Ground Pound by Bunji Garlin. How could you not get excited when you hear that voice say, "Groundzillas!" Yeeeeees!
That's it for me! Now, over to you: thoughts, comments, disagreements with my top 5 soca music tunes? Please add them below!
Yes, 2019 tunes were nice, but are 2022 tunes nicer? What do you think?
Before I go, of course I just have to mention our Ultimate Trinidad Carnival Experience, which is our planned-for-you trip where all you need to do is (1) book your flight, (2) pack and (3) show up! For more info, click here.
Thanks for reading and as always…
Til de next lime,
Esha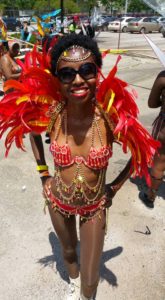 About Esha: As a travel curator and event planner with over 20 years of experience (whose been to 5 out of the 7 continents), Esha's helped professional women who don't have the time, energy, or resources to plan their own vacations so they can travel and enjoy unique, life-changing Caribbean experiences. Visit our website or click the links below to learn more!
You may also like: