Thanks for stopping by our blog "4 tips to survive Trinidad Carnival"!
Over the years we've taken over 250 clients (and counting) to experience the amazing festival known as Trinidad Carnival.  In addition, between the 2 of us, we have over 25 years of attending "the Greatest Show on Earth"!
Does this mean that we've picked up a few things along the way about how to survive it?  Yep, we sure have.  And this blog is about sharing these essential tips with you.
Keep in mind, these tips can also be applied to any Caribbean Carnival because they ALL involve the following – lots of partying, lots of drinking, a Parade filled with costumes and lots of dancing, and little sleep!
Play close attention and follow these tips to make sure that you don't miss a minute of your Trinidad Carnival experience by being passed out in your hotel room 
Tip #1:  Stay hydrated
We think this is the most important and often the most overlooked tip.  Don't underestimate the strength of the alcoholic drinks served in Trinidad during Carnival time!  Our experience has been that alcoholic drinks are served much stronger in Trinidad than in North America.
Staying hydrated while drinking and partying is tough but it's possible.  One thing we always tell our clients is, for every alcoholic drink that you have, drink 1 bottle of water.
Even better, every time you go to the bar for an alcoholic drink, get a bottle of water.  This will ensure that you don't skip getting water to hydrate yourself because the bar's crowded or you're a little lazy or pre-occupied with whinin' to take a walk there 
Keeping hydrated will ensure that you don't get too drunk, you'll keep a nice buzz and be able to enjoy yourself without passing out and missing everything!
Tip #2:  Wear sunscreen (and reapply)
This tip is especially important on Carnival Monday and Tuesday, the 2 days of the Trinidad Carnival Parade.
We also strongly recommend applying sunscreen before leaving for a sunrise/breakfast/day party such as Sunny Side Up or Shades.  Don't let a wicked sunburn spoil your trip!  And trust us, sunburned shoulders and a Carnival costume DO NOT a good time make!
Keep in mind, during the Trinidad Carnival Parade and the day parties (also known as fetes), you'll be sweating a lot while dancing away under the hot sun.  Tip #1 will help you to replace the fluids you'll be losing; however, the sunscreen will protect your skin.
Tip #3:  Take your vitamins
Let's face it.  Your diet in Trinidad will not be the healthiest with all of the yummy and delicious foods.  Trust us; you'll be trying to eat as much as you can!  (Doubles, roti, macaroni pie anyone?  These are our personal Trinidad Carnival picks).
There will be no salad, fruit or vegetables at the all-inclusive parties you'll be attending; you can bet on it.  And even if those food items were there, would you eat them?  We'll take the doubles for $100 Alex, please (lol).
So, take our tip, do yourself a favor and bring supplements with you, especially vitamin C.  Should you feel a sore throat coming on, that vitamin C will come in handy!
We also recommend bringing multi-vitamins and any other supplements that you normally take to keep yourself healthy at home.  It also couldn't hurt to bring cold medication with you that you normally take when you get sick (just in case).
Tip #4:  TRY to plan your itinerary to get as much sleep as possible
We did say TRY (lol)!  With several fetes happening every-single-day during Carnival, you'll be tempted to go to all of them.  Which means very little sleep for you and the possibility of you falling ill – catching a cold or something worse – is very high.
Partying too hard will definitely lead to you missing the main events which in our mind, are J'ouvert and the Trinidad Carnival Parade.  Isn't that what you came to Trinidad Carnival for???
Do this instead; while planning your trip, build in time for sleep so your body can rest and repair from all of the partying you'll be doing!
Even better, why not let us plan your itinerary for you?  Ultimate Trinidad Carnival takes all of the guess work out of planning your Trinidad Carnival Experience, within a safe group environment.  You focus on partying, we'll handle the rest!  To learn more, visit our website – click here.
Over to you: what are your tips that helped you survive Trinidad Carnival?  Leave us a comment below!
Thanks for reading!
Til de next lime,
Your Events by Ashé Team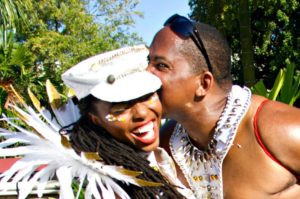 About Esha and Tarik:
Founders of Events by Ashé, a company that provides unique and life-changing Caribbean Experiences, Esha and Tarik are passionate about the Carnival lifestyle.  They even met during Trinidad Carnival back in 2006!  They are so passionate about Carnival that they created Ultimate Trinidad Carnival, Ultimate Summer Carnival and Ultimate Bago Carnival to share these experiences with hundreds of clients around the world.  To learn more about them, visit their website or check us out on social media below.