Jamaica Carnival 2019 recap – how was it really?
It's your girl Esha here – thanks for stopping by Carnivalista Lifestyle!  This blog is all about Jamaica Carnival which I had the distinct pleasure of attending with my girls at the end of April.  I haven't taken an all-girls trip in quite a bit and *sigh* it was wonderful!
Usually my travel is with bae (his name is Tarik if you didn't know) and our little one…so this was a "mommy time" trip in addition to a little research to see what all the fuss was about Jamaica Carnival!
In a nutshell, I think all the fuss is warranted.  If you love the Carnival culture, soca music, dancehall with a little reggae thrown in for good measure plus great food, awesome parties and friendly people, then Jamaica Carnival is right up your alley – seriously!
Let me get into the good, the better and the best fuh yuh!
The good
The food.  Although I didn't get to have authentic Jerk chicken while I was in Jamaica (epic fail, I know), all of the other food options that I tried were mouth-water-ing-ly good.  The best food I had at an event by far was at Sunrise Breakfast Party!  From the ackee and saltfish to the sweet and sour chicken with sesame noodles, my taste buds were in heaven!  Here are a few pics from this EPIC fete (my humble opinion):
The better
The Jamaica Carnival Parade.  I honestly wasn't sure what to expect from playing mas on de road with Xaymaca International.  I was very pleasantly surprised – their costumes looked really beautiful on their website, ordering online was super easy, even though I ordered my costume 1 week before the parade (luckily there was room in 1 section lol) and pickup at the mas camp was breezy – for me.  My friend didn't fare so well.  There were some fitting issues with her costume, however Xaymaca's customer service was responsive and very accommodating (as they should have been).  My friend ended up getting switched to another section at her request and she LOVED her final costume.  They also had a t-shirt section, which several ladies purchased and then wore Monday wear on de road – Trini Carnival style!
As far as de road experience, which is all that really matters to me, I thought it was slow to start, which I attribute to the heat, but ended up being fantastic.  Lunch time was a bit of a debacle because they ran out of food (my friends ended up getting some eventually though) but drinks were flowing all day, the DJ's were really good and the live performances by Machel Montano, Skinny Fabulous, Lyrikal, Preedy, Sekon Ska and last but certainly not least Teddyson John were great!  Xaymaca fed us 3 times throughout the day (I'd never experienced that) and ended with a "las lap" party at an enclosed area, where you were served dinner (the last of 3 meals).  Add in the good eye candy and lots of bacchanal once the afternoon/evening came, I think it was a good experience.  It definitely surpassed my expectations.  A few more pics…
The best
The fetes.  I went to 4 fetes in total – Frenchmen Blocko Street Party, Soca Brainwash JamRock, Sunrise Breakfast Party and Suits Jamaica: Drydocked.  If I didn't have to leave the day after the Jamaica Carnival Parade, I would've hit Xaymaca's Beach Lime too (I heard it was awesome).  And rated from good to could be better – I would rate the parties I went to as follows:  Sunrise Breakfast Party, Frenchmen Blocko Street Party, Soca Brainwash JamRock and Suits Jamaica: Drydocked.
A side note: generally, I thought it took a looooong time for all of the fetes I attended to "jump off".  You know, when everyone is in bacchanal mode?  Yeah…that took a while at every single Jamaica Carnival party that I went to including the parade.  It was strange – I mean all the elements were there: food, music, drinks, eye candy…but the vibe just took a while to really get going.  However, once every event got going they were good.  I'm going to focus on my fave Jamaica Carnival fete by far – Sunrise Breakfast Party!  Now, don't judge me; I was in the food area alone for at least an hour (lol)!
Although the heat was serious (Sunnation, you REALLY need to do something about that next year, okay?  Please give a Carnivalista some A/C cooling stations, more ventilation, SOMETHING), the food was fantastic as I mentioned earlier, the layout and décor was really beautiful,  the bars were well stocked and the live performances were insane – Machel Montano, Voice, Preedy and Peter Ram to name a few.  Outside of it being really, really, really hot, I honestly have no other complaints.  It was a well-done event and I had a blast!
De final verdict
My take?  Jamaica Carnival is good for you if you're experiencing a Carnival in the Caribbean for the first time.  If you've been to Trinidad or even Barbados Carnival before, you might be a tad disappointed though (sorry Jamaica).  I personally have enjoyed Barbados Carnival more than Jamaica Carnival and well, Trinidad Carnival has my heart.
In any case, as I like to say, "It's all about de lime".  If you're traveling with easy-going, fun people, then you'll have a great time no matter where you go!
We're working on a couple of Jamaica trip ideas right now.  If you'd like to stay in the loop, be sure to contact us.
Thanks for reading and as always…
Til de next lime,
Esha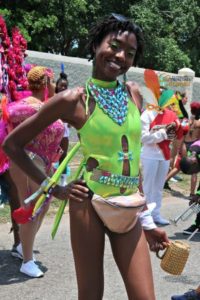 About Esha:  As a travel curator and event planner with over 20 years of experience (whose been to 5 out of the 7 continents), Esha's helped professional women who don't have the time, energy, or resources to plan their own vacations so they can travel and enjoy unique, life-changing Caribbean experiences. Visit our website or click the links below to learn more!