Our Cyber Week Deals 2019
Hello, hello, hello! Thanks for visiting our Carnivalista Lifestyle blog. This week, we're celebrating American Thanskgiving AND our Cyber Week Deals! While we can't wait for the yummy Thanksgiving food, we're admittedly more excited about our Cyber Week Deals (ha ha is that wrong?) Our deals will be on from Thursday Nov 28 to Monday Dec 2, so they'll definitely qualify as Cyber Monday travel deals as well!
To give you some background, 2018 was the first year that we offered Cyber Monday travel deals and it was so successful, we've decided to do it again 😉
Okay, on to the Deals!
We're releasing Ultimate Trinidad Carnival 2021 from the vault! Easily our most popular all-inclusive experience, since Ultimate Trinidad Carnival 2020 is SOLD OUT, we're moving on to 2021. With this purchase, you'll get everything you need to experience the colourful, exhilarating, heady rush that is Trinidad Carnival and it will be released on Thursday at a very special pricing in 2 bundles…

Bundle 1: Ultimate Trinidad Carnival 2021 x Tobago Love 2020. With this bundle, you'll get a last minute winter getaway in February to beat those blues. Tobago is Trinidad's beautiful sister island in the sun and Tobago Love 2020 gives you the BEST that Tobago has to offer! We'll stay in the heart of Tobago, Crown Point, just steps away from the beach, restaurants and shopping. You'll also get lots of opportunities to take in Tobago's great beaches, a day trip to the Argyle Falls and lots of delicious Tobagonian cuisine!
Bundle 2: Ultimate Trinidad Carnival 2021 x Eat, Dance, Travel: Jamaica 2020. See Jamaica through new eyes with this bundle! We'll take you to vibrant Kingston in a safe, guided group tour in October 2020. Eat and dance your way through Jamaica with the Jamaica Food and Drink Festival, a visit to the Bob Marley Museum and a private dinner overlooking the breathtaking Jamaican scenery.
Yes! We know you can hardly wait for Thursday.
In the meantime, know these things about all of our experiences:
They'll be fully guided (this is what we're known for). We don't just book your package and send you on your way! To ensure your maximum enjoyment, we'll be there with you to make sure everything runs smoothly, you have the time of your life and return home safely.
To get the maximum savings, our bundles will be offered with a paid in full option, however you can also save money with our easy payment plans.
All of your research and coordination is provided to you about all of your booked trips. We deliver research to you via your client portal and a private Facebook group, so you can "meet" your fellow travelers. All you need to do is book your flight and pack!
If you're traveling solo, no problem because we have a roommate matching list. In fact, several of our travelers over the years have been matched up and have formed immediate travel-ships. We'll also have single occupancy pricing available if you're not interested in sharing a room with anyone (we understand). We're all about you having options to have the best vacations that you NEVER planned!
*Updated* we've launched our Cyber Week Deals; click here to visit our website!
Thanks as always for reading and as always…
Til de next lime,
Esha and Tarik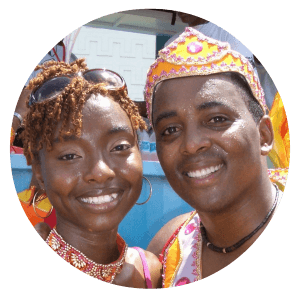 About Esha and Tarik: Founders of Events by Ashé, a company that provides unique and life-changing Caribbean Experiences, Esha and Tarik are passionate about the Carnival lifestyle. They even met during Trinidad Carnival back in 2006! They are so passionate about Carnival that they created Ultimate Trinidad Carnival and Ultimate Crop Over to share these experiences with hundreds of clients around the world. Click the links below to learn more!
Or call us at (919) 697-8772
You may also like: