Esha X Caribbeana interview
Happy new year to you and thanks for stopping by!
After gallivanting to San Francisco and then beautiful Tobago over the holidays (sigh), we're back in the US and back into the swing of things.
And that means sharing an interview that Esha did on WPFW radio with Von Martin of Caribbeana Communications Inc.
About Caribbeana
Caribbeana, the radio program is broadcast live every Saturday night from 6pm-9pmEST on Pacifica Radio's WPFW 89.3FM in Washington, DC. It has been on the air for over 41 years and is hosted by its' creator, executive producer, and host Von Martin.  The show features music, news, interviews, and information all reflecting the Caribbean and the diaspora.
Let's get into the quick interview!
Hope you enjoyed it!  If programming like this is your jam, then you'll definitely want to support Caribbeana.  They're a non-profit organization.  Because of support from people like you, they're able to create programming like this!
To donate to Caribbeana Communications Inc. make a payment via PayPal to [email protected].  You can also learn more about them via their Facebook page.
Ready to travel with us?
As Esha mentioned in the interview, we have a few travel experiences now available:
Tobago Love 2020 (registration ends on Jan 13th, 2020): 4 spots left!  Please contact us for more information.
Ultimate Crop Over 2020: only 7 rooms left.  Visit our webpage to see our available packages.
Ultimate Trinidad Carnival 2021: 20% of our rooms are SOLD!  Grab your spot today by checking out our website.
Thanks as always for reading and…
Til de next lime,
Esha and Tarik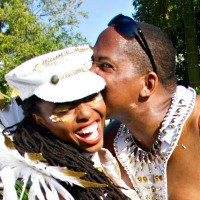 About us:  Founders of Events by Ashé, a company that provides unique and life-changing Caribbean Experiences, Esha and Tarik are passionate about the Carnival lifestyle.  They even met during Trinidad Carnival back in 2006!  Being so passionate about Carnival, they created Ultimate Trinidad Carnival and Ultimate Crop Over, sharing these experiences with hundreds of clients around the world. 
Or call us at (919) 697-8772
You may also like: