3 reasons why Trinidad Carnival is the ultimate experiential trip
Thanks for stopping by our blog!  If this is your first time visiting Carnivalista Lifestyle, be sure to join our mailing list if you're interested in travel, music, fun and everything Carnival!
And this week's blog is all about experiential travel.
Haven't heard about it?  Well, while you might not know of the exact term, if you've done any travel recently where you focused on meaningfully experiencing a country, city or a particular place, guess what? You've taken part in experiential travel.  It's just a fancy term that has been shaping the travel industry over the past few years.
In fact, experiential travel, also known as immersion travel, can often be transformative.  It also includes experiences where you can engage with a country's history, people, culture, food and environment.  Sounds good right?
That's why we think that Trinidad Carnival is the ultimate in experiential travel! Let's share 3 reasons why we think so with you:
(1) The actual unique Trinidad Carnival experiences
In regard to the actual experiences, we'd like to kick this one off with a question that we laughingly pose to our Ultimate Trinidad Carnival clients all the time, "Where else can you party in the morning darkness with paint on your body ("dutty") from head to toe?"
Our question references J'ouvert, one of the festivals that happen during Trinidad Carnival.  Yes, it starts at 2 or 3 in the morning.  Yes, it's dark outside when you leave the hotel to party.  Yes, you do have breakfast and start drinking.  Yes, there is lots of paint for you to happily plaster all over your body while dancing to sweet soca music….yes, yes, yes, yes! 😉
If that's not immersion in a country's culture, in this case Trinidad, then we don't know what is!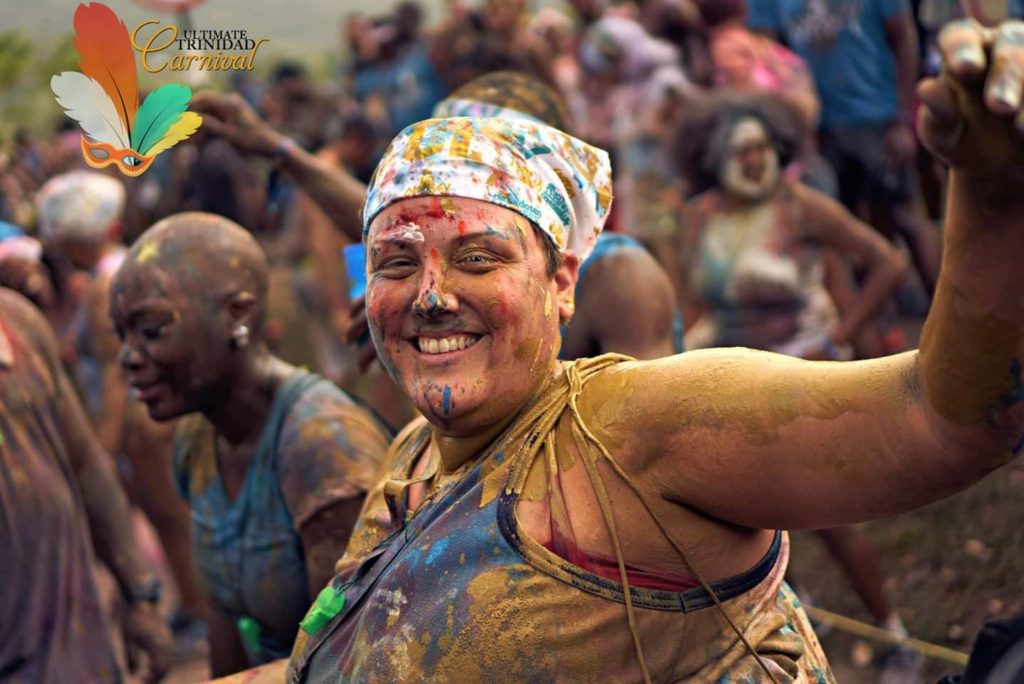 (2) The meaningful Trinidad Carnival activities
An important part of experiential travel is that it's meaningful.  While at initial glance, all of the partying that happens during Trinidad Carnival may not appear to be meaningful, we respectfully disagree for 2 reasons.
The first reason is the absolute joy and freedom that we and our clients experience.  It's the best opportunity to release your inhibitions, completely forget about real life and truly enjoy yourself!
And the second reason is because of what hear, especially from our European and American clients is the "no drama" experience that they have at Carnival.  As Carolyn, one of our Ultimate Trinidad Carnival clients says, "What was eye opening for me [during Trinidad Carnival], was the peace and unity that I felt during this entire experience!    Ultimate Trinidad Carnival brings diverse individuals together in such a positive way."
Personally, our experience of Trinidad Carnival with people of colour from many different backgrounds and walks of life, is an atmosphere where everyone is just out to have a good time. No stress, no drama – just dancing, whining, drinking and having a blast!
So, remember Trinidad Carnival = meaningful 🙂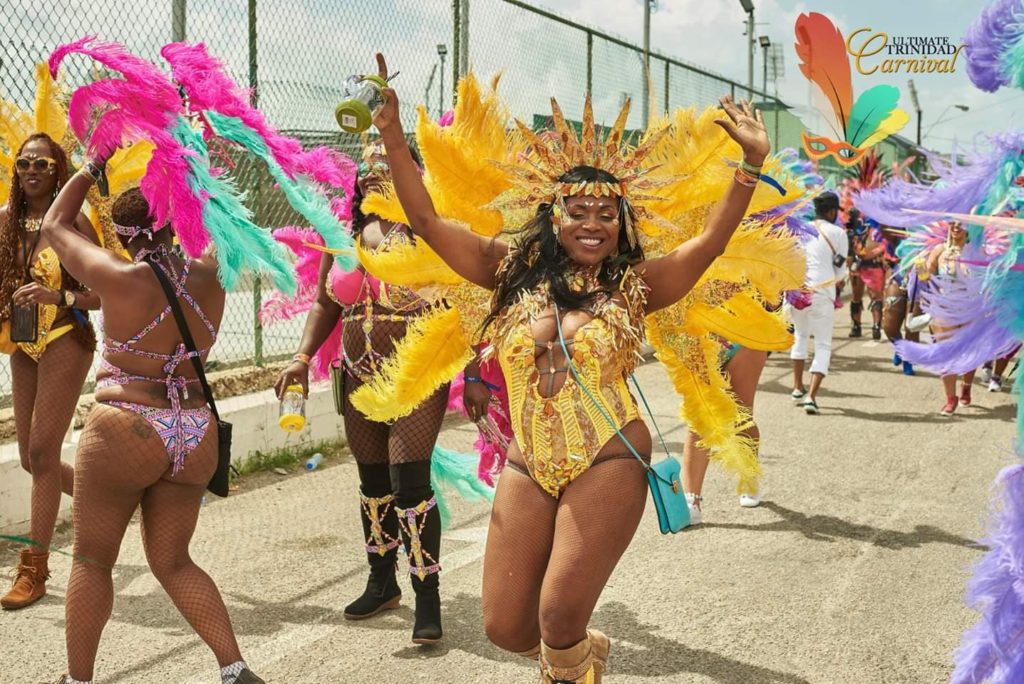 (3) The immersive factor
We've had so many clients and friends mention to us that going back to real life is hard after experiencing Trinidad Carnival!  This we attribute to the fact that if you've decided to go, whether it be 6 plus months away or around the corner, it takes over your life completely.
You're literally so immersed in the preparation for this amazing festival that once it's over, you feel like life will never be the same.   This complete and total immersion happens in several different ways.  It usually starts with the sweet soca music that is played everywhere in Trinidad during Carnival time. In case you don't know what soca music is, check out Esha's blog by clicking here.
In order to truly be ready for Trinidad Carnival, you must be listening to soca music (what we call "the happiest music in the world") continuously leading up to your trip.  That way once you touch down, yuh ready to "shell down" (party hard) and are familiar with the music.  Get comfortable with it, because you're going to have a steady diet of it for the next few days.
Other preparation activities that have you immersed?  Thinking (and dreaming) about your confirmed costume and what accessories will go with it (comfortable footwear, jewelry, makeup, etc.) and creating or purchasing your Monday wear for the Carnival Monday Parade.  You'll also be obsessing over what clothes to sacrifice for J'ouvert (the festival that we mentioned earlier) and what shoes can you jump up in while partying without "brukkin' up yuh foot"…the list goes on and on.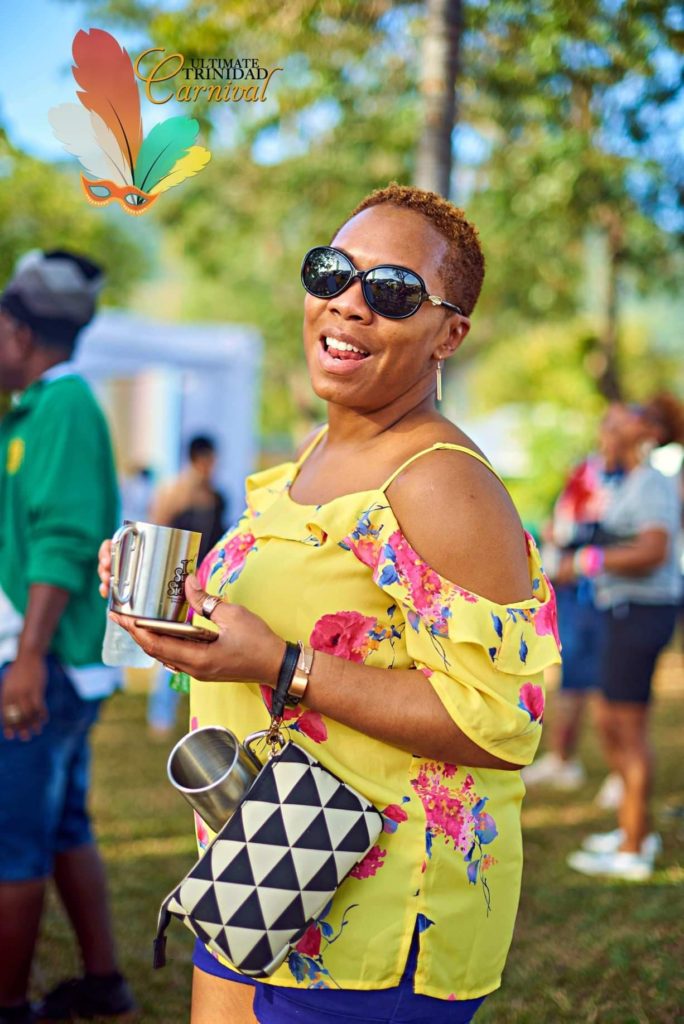 It's no wonder that after all of that complete immersion (you can almost call it a Trinidad Carnival obsession), once it's over, we're ALL left wondering how to go on with regular life!  The true Trinidad Carnival tabanca starts!  (In case, you're not sure what a tabanca is, click here).
So, what happens after Trinidad Carnival?  Some immediately start preparing for the next Carnival fix.  Some find love (like we did!)  Some reassess their life priorities and travel more.  And still some treasure and love the memories that they created.  They also look back on their memories from time to time as a point in their lives where they completely abandoned modesty, fear, what they "should do" and relieved themselves of the expectations of life!
So, those are our 3 reasons why Trinidad Carnival is the ultimate experiential trip!  If you'd like to experience this immersion travel trip for yourself, click here to visit our website.
If you enjoyed this blog, please leave us a comment below!  Thanks for reading and as always…
Til de next lime,
Your Events by Ashé Team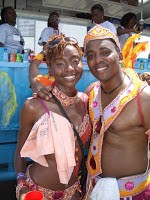 About us:  As travel curators and founders of Events by Ashé, a company that provides unique and life-changing Caribbean Experiences, Esha and Tarik are passionate about the Carnival lifestyle.  They even met during Trinidad Carnival back in 2006!  They are so passionate about Carnival that they created Ultimate Trinidad Carnival and Ultimate Summer Carnival to share these experiences with hundreds of clients around the world.  To learn more about us, visit our website by clicking here or click the links below.
You may also like: