Ultimate Trinidad Carnival recap – part 1
Hey, thanks for stopping by our blog!  With everything that's been going on, it's been challenging for me to write my recap of  the Ultimate Trinidad Carnival Experience 2020.
I finally figured that we probably both need a little injection of fun right now.  So, here it is! 😉
In total, this will be a 3-part series because there's so much to tell.  I'll start with the conclusion of my Monday wear and then get to my usual take on the good, the better and the best of Trinidad Carnival 2020.
Let's get on with it then, shall we?
Monday wear conclusion
Soooo, about my Monday wear.  I completed it however, my bikini bottom didn't fit.  It was too small!  I'm not even sure how that happened because I used the same pattern brand (McCalls) and the same size as my Limerz bathing suit (mentioned in my last Me Made Carnival blog).
In any case, unless I wanted to do an extreme wiggle in and out of this bikini bottom all day on de road on Carnival Monday, it wasn't going to work.
Oh, did I forget to mention that I found out that it was too small the night before I left for Trinidad?  Riiiight…
Upon finding out that the bikini bottom was too small and there wasn't enough time for me to remake/repair it that night, I decided to bring pack it, along with any accessories I planned to wear it with and the gems I intended to embellish it with.  This was hopeful thinking that I would be able to fix it before Carnival Monday in Trinidad.
The backup plan…
I also packed a back up plan in the form of my Aura costume top that I kept from Crop Over in 2020 and a coordinating bikini bottom.  Good thing I did that because when I arrived in Trinidad, there was so much to take care of for our clients that I didn't even have time to think about my Monday wear until Sunday night!
So, the back up plan saved me.  Although I felt sad that this was the 1st year in a long time that I didn't wear my self-made my Monday wear, I still looked fabulous!  Check out my pic with my soca crush, Preedy, below: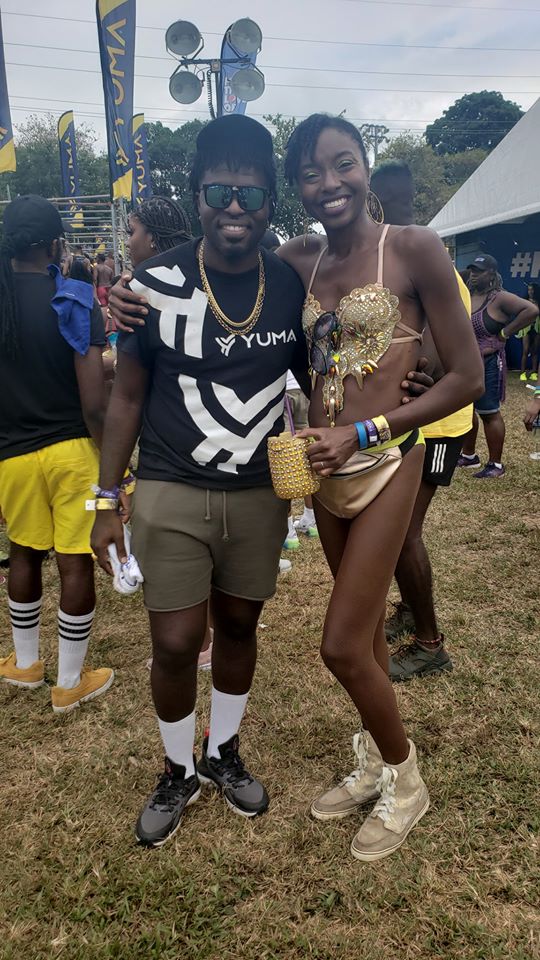 I also filmed a quick Carnival Monday video in it too!  Click here to check that out.
So, you must be wondering:
What was I actually able to complete and wear during my Trinidad Carnival experience this year?  Sigh.  To be perfectly honest, not much!  However, I was extremely proud of my completed white dress and sash that I wore to Lime at the Hyatt.  This ultra-all-inclusive party always "forces" me to make something because I practically have nothing party appropriate AND all white in my closet!  The inspiration for this dress was a creation that I spied in Essence magazine several years ago that's still on my sewing vision board: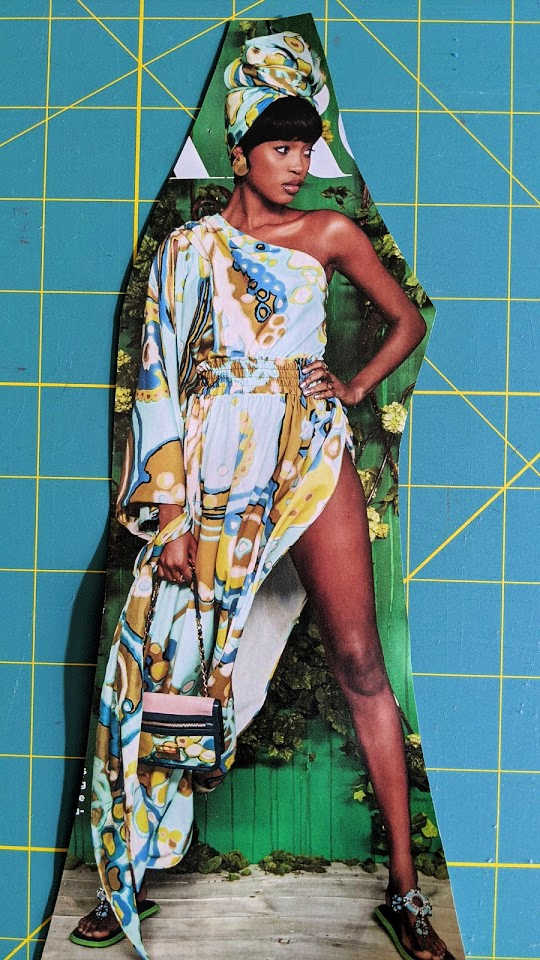 Isn't it amazing?  I just knew I had the perfect pattern hack to bring it to reality.  I purchased McCalls M7807 last year because I LOVED the dramatic sleeve.  To hack the pattern, all I did was lengthen the tunic version of the top to make it knee length and lengthen the sleeve (to fit my long arms).  Lengthening the sleeve also allowed me to add an elastic wristband instead of the cuff called for in the pattern.  I just knew I wouldn't have time to make a cuff (lol)!
The initial challenge was sewing it in white.  My previous attempts at sewing white garments haven't been very successful because I didn't like how the facing/bindings would show through.  A quick Google search on the subject advised me to add lining to the garment and that would take care of the problem.  Yay!
I already had this amazing white cotton, appliqued fabric that my amazing Aunty Dorothy gifted me and some very lightweight cotton fabric to line it with.  Since the appliqued part was on the border of the fabric, I positioned that part along the hem of the dress and along the bottom of the sleeves.
I was ready to sew!
The actual construction of the dress was quite easy and I finished it in 2-3 nights.  I repurposed a green African print sash that I made last year as the belt since I thought it needed a little pop.
The finished product?
Here you go: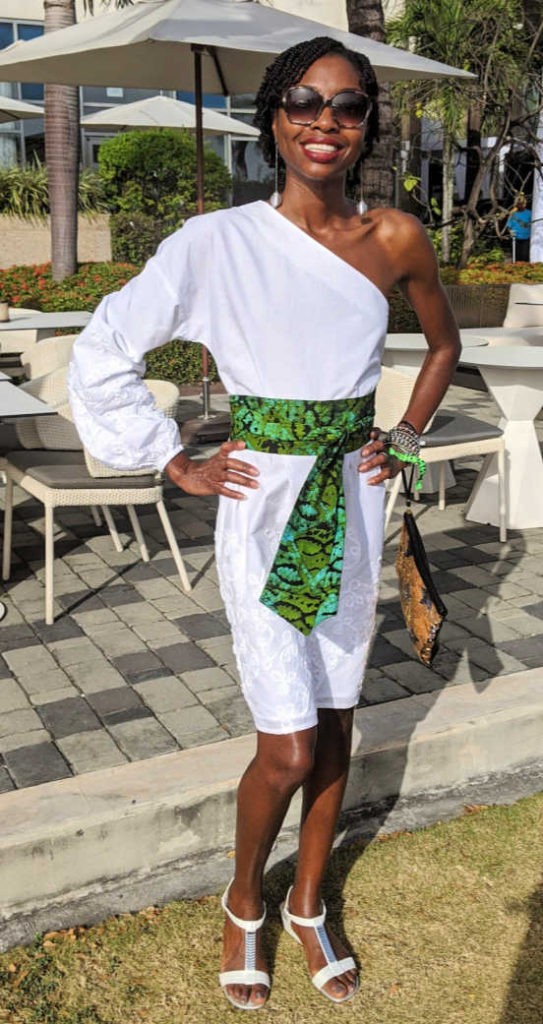 And here's a group shot with a few of my fave peeps in the world!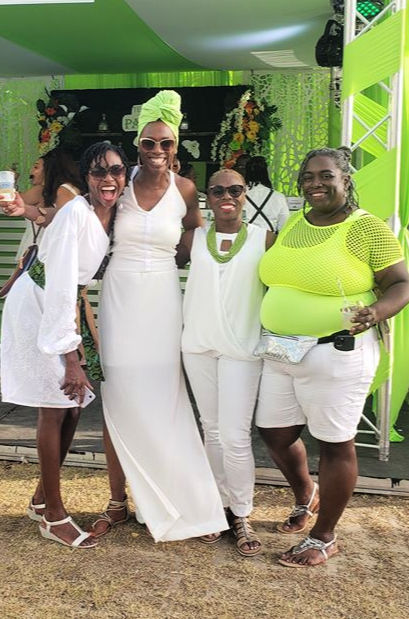 Next up:
Part 2 of the Ultimate Trinidad Carnival Experience 2020 recap.  Stay tuned for the good and the better!
Take care of yourself until then.
Til de next lime,
Esha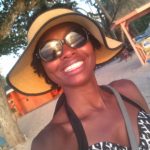 About Esha:  As an event planner with over 20 years of experience (whose been to 5 out of the 7 continents), Esha's helped professional women who don't have the time, energy, or resources to plan their own vacations so they can travel and enjoy unique, life-changing Caribbean experiences. Visit our website or follow us to learn more!