Me Made Carnival ~ Barbados Carnival 2019 edition
Hi, thanks for stopping by!  It's your girl Esha here and this is a video I've been wanting to do for quite some time now!
For every trip that I take our clients on and especially the Carnival trips, I make quite a few of my outfits.  I've been moving more and more towards a completely handmade Carnival wardrobe for each trip.  For Barbados Carnival in 2019, also known as Crop Over, I *almost* had all completely self-made outfits and lucky me, I've finally had a chance to capture all of my makes on video to share with you.
First, a little bit about "Me Made Carnival".  It's my take on the #memademay movement that was started quite some time ago by Zoe of So Zo, what do you know? It's an annual event that promotes wearing self-made clothing and sustainable sewing during the month of May.
My "Me Made Carnival" is a take on that except it's specifically for one of my loves, Carnival!
I'm sharing 4 outfits with you in this video, enjoy!
Links to what I mentioned in the video:
Patterns used
Vogue cropped top VP969
Breaking the Pattern book: Rae pants
McCalls romper M7755
McCalls bathing suit M7964 
YouTube video: How to make a beach cover up from a shawl (no sew method)
Mood Fabrics blog: How to make a beach cover up from a shawl (sewing method)
Mood Fabrics blog: Turn a piece of fabric into 8 different cover ups (no sew methods including maxi vest shown in video)
My July Faves blog with Mood fabric swatches and links
Next up: Why not check join us during our next Ultimate Summer Carnival adventure?  Check out our new website for more information about "de sweetest summer festival" – it's a can't miss!
Thanks as always for reading.
Now over to you: what was your fave outfit?  Leave a comment below!
Til de next lime,
Esha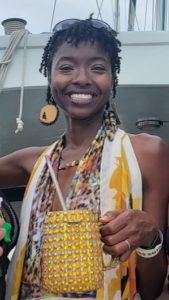 About Esha:  As travel curator and event planner with over 20 years of experience (whose been to 5 out of the 7 continents), Esha's helped professional women who don't have the time, energy, or resources to plan their own vacations so they can travel and enjoy unique, life-changing Caribbean experiences. Click the links below to learn more!  You can also call us at (919) 697-8772.
You may also like: