Esha x Sardines travel podcast – the Ultimate Trinidad Carnival interview
Hello there, it's your girl Esha here!  Thanks for stopping by our blog.  With everything that's going on right now, I was so honoured and excited to have some time to talk with Odofoley Oquaye of the O's Odyssey travel podcast! 
In case you haven't heard about Odofoley, the name of her business is Sardines LLC, where they match travelers called "sardines".   As a part of the service they provide, they can match you with a travel mate if your original plans fell through with a group or if you'd like to travel somewhere and don't have anyone to go with you.  Brilliant, right?
About the travel podcast interview
Odofoley, or Ms. O as I've taken to calling her was so easy to talk with.  Our time together was made even easier since we both have Trinidad Carnival as a common love 🙂
Plus, we even live 30 minutes away from each other!  #local #smallworld
Listen up as I talk about what makes Trinidad the ultimate Carnival destination, what parties/fetes are a must see, as well as how our business, Events by Ashé, takes all the stress out of planning your Carnival turn up and cool down!
Click here to visit O's Odyssey for a listen to the podcast (edisode 34)
Up next: the final part of my review of the Ultimate Trinidad Carnival 2020 experience!  Stay tuned.
Til de next lime,
Esha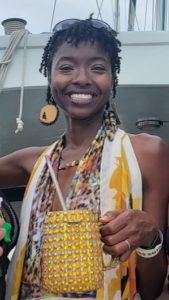 About Esha:  As an event planner and travel curator with over 20 years of experience (whose been to 5 out of the 7 continents), Esha's helped professional women who don't have the time, energy, or resources to plan their own vacations so they can travel and enjoy unique, life-changing Caribbean experiences. Visit our website or click the links below to learn more!
 You may also like: