The myths you believe that keep you from finding love
It's your girl, Esha here.  Hello to you and thanks for stopping by my blog, Carnivalista Lifestyle!  And if finding love has been challenging for you, then this blog is for you.
Firstly, let me tell you a little bit about why I'm writing this now.  It seems a little frivolous to write about love with everything that's going on, doesn't it?
Not really.
Even with the additional stress people are feeling from the Cornovirus, the most common questions I've gotten when I've talked with potential clients are still:
So you met your husband during Trinidad Carnival?  How did that happen?
Yep, even during a pandemic, finding love is still important and essential.
After realizing that finding love is important and inquiring minds wanted to know about how I did it, I decided to write a little bit about the first step that I took in my own life.  That first step was becoming aware of the myths that were circling in my mind.  The myths that I finally realized were keeping me from finding love.
Myths keeping you from finding love?
Yes.  Allow me to take you back to 2005, the year before I met my husband, Tarik, at Trinidad Carnival.
At that time, the myths I had in my mind were: the "facts" that I read/watched in the news, the conversations that I was having with my other single friends and the other beliefs that I had about myself and relationships in general.
Allow me to give you an example.  One of the myths I was holding in my mind was – you only have 1 soulmate.
Okay, I'm sure something came up for you when you read that.  Stay with me here.
I say this is a myth because I now believe that we have many soulmates.  A soulmate to me is someone who matches/compliments you on a soul level.  They just get you and you can have several throughout your life.  One of my soulmates is my hubby, however I have several other soulmates who enrich and compliment my life in a multitude of ways.
When I believed this myth, that's exactly what it was – a limiting belief.  I was basically telling the universe and God that there was only 1 person on this entire Earth who could be my soulmate.  Is that a belief that was enabling God to share many potential husbands with me?  Nope, that limiting belief was based in scarcity, so many potential husbands weren't coming my way.
I believe that there are many soulmates that we are compatible with.  When you meet them, it's up to you to discern how they fit into your life, if at all.
And that was only 1 limiting belief.  I had many, many more that I got rid of.  Once I got rid of them though, things started to shift for me.  Several potential husbands came to me when my mindset shifted as a result of eliminating those myths from my mind.
Meeting hubby at Trinidad Carnival followed in 2006.
How can you get rid of myths yourself?
I ask you to consider that removing the myths and limiting beliefs from your mind are completely within your control.
And if you'd like to learn about 3 more myths that are keeping you from finding love, then please join me at my free webinar:
From bachelorette to in love:  3 myths to reject and then attract love
I'm really excited about this webinar!  It's the first time I'm sharing the 3 biggest myths that I eliminated in order to start attracting the love of my life.
If you're ready to get rid of those limiting beliefs and attract love for yourself, then click here to learn more about my webinar.
Now over to you: what are the myths that you think are keeping you from finding love?  Comment below!
Til de next lime,
Esha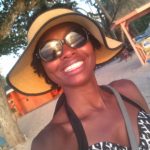 About Esha:  As an event planner with over 20 years of experience (whose been to 5 out of the 7 continents), Esha's helped professional women who don't have the time, energy, or resources to plan their own vacations so they can travel and enjoy unique, life-changing Caribbean experiences. Click the links below to learn more!
Or call us at (919) 697-8772
You may also like: