Friday live: happy anniversary to us!
Hey, it's your girl Esha here.  I hope you're staying well and keeping good as my Trini Tantie would say!  My Friday Live today recapped the best part of my week: happy anniversary to us 🙂
Our 10th wedding anniversary was epic…
It was a perfect day!  It started with a boat ride plus snacks (and drinks) and it ended with Chef Lemar cooking us dinner (with leftovers for today).  Yep, my hubby is better than yours! 😉
Check out the video below for the deets…
Ready find out more about our upcoming events?  Check out the links below for more information or to grab your spot:
Travel Dreaming Challenge: If you've forgotten how to travel dream (and who hasn't these days?), then this is the free event for you!  Get your travel juices flowing again as we teach you how to create your travel vision board, how to afford travel and make the most of your vacay time.  Join our mailing list to find out more: click here.
And last, but not least…
If 2023 is your year to get back on a plane (when you feel safe enough to, of course), then Ultimate Trinidad Carnival 2023 is for you.  You'll want to grab a package when we launch on Jan 12, 2022!  When you travel with us, all you need to do is pack and show up!  Visit our website for more info; click here.
Happy anniversary to us!  Thanks as always for visiting.
Til de next lime,
Esha (with Chef Lemar below)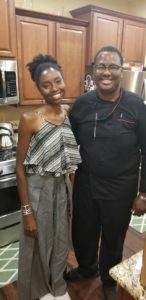 About Esha:  As a travel curator and event planner with over 20 years of experience (whose been to 5 out of the 7 continents), Esha's helped professional women who don't have the time, energy, or resources to plan their own vacations so they can travel and enjoy unique, life-changing Caribbean experiences. Visit our website or click the links below to learn more!
You may also like: