Your Summer Soca 2020 Playlist
Thanks for stopping by our blog, Carnivalista Lifestyle!  With the cancellation of ALL summer Carnivals, you "tink de party dun"?  No, no, no.  Soca artists have been working hard releasing new music for months and the soca 2020 releases have been pretty steady throughout the summer.
New tunes we're really loving: Outside by Peter Ram, the Hello remix by Kes and Getting it good by Mikey.  These are all good quarantine chunes to break you out of your funk and get you dancing!
AND we've added them all to a Summer Soca 2020 Playlist – just for you!  There's also a soca mix by DJ Jel on this playlist.  It's his annual Crop Over Charge mix and it's perfect to get you moving.
Check it out below:
To take a page from Mikey's song, "Yuh could a dead yuh know, could a sick yuh know, could a be ben ovah in a corner with a stick yuh know…so every breath you take, celebrate!"
We hope you continue to be grateful for what you do have during this challenging time.  And after listening to this soca 2020 playlist, how could you be sad?  Soca always makes things better! 🙂 
If you'd like more helpful playlists like this, then why not become an Ultimate Insiders+ member?  Our exclusive membership service delivers lots of content like this every single month.  Click here to learn more.
Hope you enjoyed this!  As always…
Til de next lime,
Esha and Tarik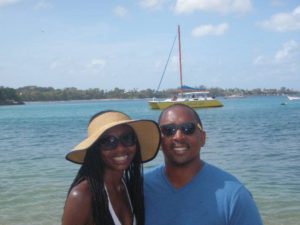 About Esha and Tarik:  Founders of Events by Ashé, a company that provides unique and life-changing Caribbean Experiences, Esha and Tarik are passionate about the Carnival lifestyle.  They even met during Trinidad Carnival back in 2006!  They are so passionate about Carnival that they created Ultimate Trinidad Carnival and Ultimate Crop Over to share these experiences with hundreds of clients around the world.  Visit our website or click the links below to learn more!
You may also like: