Travel Tuesday: the origin of my Carnivalista Lifestyle
Hey, it's your girl Esha here. Thanks for dropping by Carnivalista Lifestyle; a blog where we help busy, professional women discover new cultures, attract what they want, love themselves and be comfortable in their own skin. And on this Travel Tuesday, I'm taking you back to the origins of my Carnivalista Lifestyle and my love of Trini culture.
The truth is…
It's in my blood
My Carnivalista history goes back at least 2 generations. My maternal grandmother and my mother both "played mas".
In case you don't know what it means to "play mas", the term means you get to play dress up, put on a costume, add glitter and paint (or makeup) and dance through the streets to sweet soca music.
This is all a part of Trini culture (Carnival was created in Trinidad) and it's the true embodiment of freedom to me!
Many islands have their own version of the Trini Carnival culture and because we as Caribbean people love to take our culture everywhere, there are Carnivals in:
So, yeah I was raised in the Carnival culture!  To be more specific, I was raised in the Carnival culture of Trinidad and Tobago.
Trini Carnival or Trinidad Carnival happens annually in the Feb or Mar timeframe and is also known as the "greatest show on Earth".
I lived in Trinidad as a child, spent summers in Tobago with my cousins and would attend kiddies Carnival in Trinidad every year with my mom. I didn't always love Carnival (shhh don't tell anyone)! To read that story, you can check out my book, Carnivalista Lifestyle!
In any case…
I got over that dislike quickly and as a teenager really started embracing Trini culture, music and the Carnivalista Lifestyle.
I experienced my first Trinidad Carnival as an adult in 1998 and I got hooked! The colour, freedom and spirit of the festival just engaged and delighted me in a way that I'd never experienced before!
And my love of Trini culture and the Carnivalista Lifestyle led me to start a business. Here's a little bit more about that.
The biz of a Carnivalista
Fast forward to 2011. When I missed my first Trinidad Carnival in 13 years,  I was determined to not miss another one!
With that in mind, when my hubby Tarik (I met him at Trinidad Carnival in 2006) and I were talking about our first Trinidad Carnivals, we noticed that there were several barriers that made the experience challenging.
Our personal experiences had a lot of guess work.  What parties to go to?  How to ensure our safety?  How do I get a costume?
That's when we thought about organizing group tours to experience this amazing aspect of Trini culture.
Ultimate Trinidad Carnival was born
Embracing the all-inclusive concept, our packages were designed to include everything our clients would need to experience Trinidad Carnival.  No guess work needed.
It was truly the best of both worlds: bringing together my love of Trini Carnival and event planning that I'd been already doing for over 10 years!
The first Ultimate Trinidad Carnival experience happened in 2012 and the rest is history! Since then, we've taken over 250 people to experience Trini culture.
Then in 2018, we created Ultimate Crop Over (aka Barbados Carnival) and much more!
Want to create your own Carnivalista Lifestyle?
As I mentioned earlier, I've written a book about my Carnivalista journey.
I describe the Carnivalista Lifestyle as – if the book How Stella got her groove back met Eat, pray, love AND they hooked up at Trini Carnival – you'd get my book!
Here's a little video about the journey I'll take you on as you read it…
If you'd like to learn more – click here.
Now over to you:  How did get started in your Carnivalista journey?  Leave me a comment below!
Thanks again for stopping by!
Til de next lime,
Esha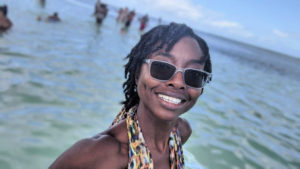 About Esha:  As a travel curator and event planner with over 20 years of experience (whose been to 5 out of the 7 continents), Esha's helped professional women who don't have the time, energy, or resources to plan their own vacations so they can travel and enjoy unique, life-changing Caribbean experiences. Visit our website to learn more: click here.
You may also like: