My top 10 Carnival must haves
Hey, it's your girl Esha here.  Thanks for coming by to visit our blog!  If you're looking for Trinidad Carnival essentials, then read on…
This week, I'm highlighting the products I cannot live without as I travel to any Carnival.  Having been to:
Over 20 Trinidad Carnivals
Tobago Carnival (New as of 2022!)
Countless Toronto Caribbean Carnivals (better known as Caribana)
Several West Indian Day Parades (also known as the NY Labor Day Parade)
Hot-lanta (ATL) Carnival
Miami Carnival
Jamaica Carnival
Barbados Carnival (also known as Crop Over)
Let's just say I've been to a lot of Carnival Parades!  Here are the products I cannot live without:
Phew – that's it!  Now you know what I cannot live without as a Carnivalista when I travel to experience Carnivals around the world!  Want more?
Til de next lime,
Your Events by Ashé Team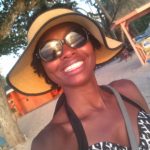 About Esha:  As a travel curator and event planner with over 20 years of experience (whose been to 5 out of the 7 continents), Esha's helped professional women who don't have the time, energy, or resources to plan their own vacations so they can travel and enjoy unique, life-changing Caribbean experiences.
Visit her website
for more info or click the links below!
You may also like: