Announcing the Carnivalista Biz Series!
Hey, it's your girl Esha here.  Thanks as always for visiting our blog.  This week, I'm so excited to announce our Carnivalista Biz Series!  I have a confession to make – the Carnivalista Biz Series is a secret wish of mine to connect with other women in business like me working in this industry (lol).  It's partly selfish, however the broader aim is to shine a spotlight on these women who are runnin' it!
And to kick it off, I'm pleased to unveil my 1st Carnivalista Biz Series interview with Erica Dixon, Founder of Unity Mas Band and Zumba© SocaJammer.  Enjoy!
Hope you enjoyed listening to this interview
To get in touch with Erica Dixon, check out the links below:
Have a Carnivalista Biz or know women in business that you'd like to appear in this series?  Click here to contact us or leave a comment below!  As always…
Til de next lime,
Esha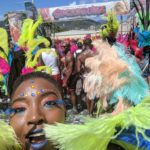 About Esha:  As a travel curator and event planner with over 20 years of experience (whose been to 5 out of the 7 continents), Esha's helped professional women who don't have the time, energy, or resources to plan their own vacations so they can travel and enjoy unique, life-changing Caribbean experiences.  Visit our website or click the links below to learn more!
You may also like: