Our travel list – the November edition
Greetings and thank you for visiting our blog, Carnivalista Lifestyle.  Today is Caribbean Tourism Day!  And we have more amazing events for you this November month along with our monthly trip list! As always, we have a roundup of virtual events and in-person events to add to your trip checklist.
Keep in mind all events on this list are in chronological order.  If you want to see our amazing in-person travel events, you'll need to read on to the end of the trip checklist.
Here's what's coming up:
Friday Facebook Live with Esha
Every Friday at 12:30 pm EST, join Esha on Facebook as she goes live to spread a little positivity through what we're all grappling with right now.
Like our Ultimate Trinidad Carnival Facebook page to get notified every Friday when she's live!  Click here to visit our Facebook page.
Here is our November schedule. 

Click each link to visit the event on Facebook:
Trinidad Carnival Stay- cay
**This event is now "pay what you can"**
Experience the Caribbean festival known as Trinidad Carnival aka "the greatest show on Earth" with us – from the comfort of your home!
Par-tay with a purpose: this event is pay what you can with all proceeds going to the Heritage Children's Center in Tobago. The Heritage Children's Center is a school for differently abled children. They've been providing classes virtually for the kids since the pandemic started, however most do not have the proper technology to participate fully in classes. Your donation will go towards purchasing tablets for the kiddies. Our goal is to purchase and deliver 10 tablets to Tobago!

You'll get our recipe for bake and shark (a Trinidadian delicacy) so you can create your own all-inclusive fete at home. Bonus: the drink of the night will be the best rum punch you've ever tasted (we'll also give you this recipe!)

And lastly, this event is the official birthday celebration of one of our founders, Esha 😉

Registration is required.  Plus, the first 25 registrants will get a FREE ticket to a soca Zumba class with Erica Dixon!  Go to https://staycations.eventbrite.com for more information and to purchase your ticket.
Caribbean Cook Up Live!
Have you ever had authentic Trinidadian corn soup? This dish is definitely one of ours and our clients' favourites!  So yummy…filled with corn on the cob, vegetables, potatoes and other ground provisions like cassava, it will be sure to warm up your cold winter nights.   In case you don't know what cassava is, let's just say you need it in your life!  Cassava is a root vegetable just like the potato only the texture is firmer. You can learn to cook this delicious dish ideal for lunch, brunch or dinner!
You'll be provided with a recipe, ingredient list and be ready to cook the meal live with Esha on Zoom.
Date: Sunday Nov 22, 2020 at 1:30 pm EST
Learn how to add this event to your trip checklist by clicking here.
Carnivalista In Love Program
Staycation Essentials for Essential Workers
If you've been taking care of everyone else and haven't taken a break since March, chances are you're an essential worker.
We created this event just for you to get some much needed "me time"!
Comes with tips to help you create your peaceful staycay space and how to clear your schedule (with no guilt).
Along with this, you'll also have access to virtual events and events you can do on your own at home.  At the end of the weekend after checking this off your "trip" checklist, you'll be refreshed and ready to care for others again.
Dates: Sat Nov 21 to Sun Nov 22, 2020.
For more details, click here.
12 Days of Caribbean Cooking Festival
With many of us being unable to travel during the upcoming holiday season, join Travel Advisors Selling the Caribbean as they partner with celebrated chefs to bring Caribbean holiday cooking traditions online!
You'll definitely want to add this event to your trip checklist until the day when we all feel safe to travel again.
Esha will be a host of one of the events, so get on our mailing list for more details as we get them.  Click here.
Ultimate Crop Over 2021
Crop Over, aka Barbados' amazing Carnival, aka "de sweetest summer festival" can be taken off your trip checklist without you doing any of the work!
Experience a taste of the good life with a fine dining experience, partying on the beautiful Caribbean Sea, being a VIP in full costume at the Kadooment Parade and getting dutty at Foreday Morning.
The bonus?  You don't have to plan any of it!  And…there are 6 rooms left!
5-night Premium Experience: travel dates of Thursday July 30 to Tuesday Aug 4, 2021
Easy Payment Plan is available from December 2020 to June 2021.  Plus if you book an Early Feter Special, you'll get a FREE frontline costume upgrade and save 10% off your package and any other Upgrades.
Registration is happening right now!  Grab your spot before it's gone.
 Eat, Dance, Travel: Jamaica 2021
Join us in beautiful Jamaica to eat, dance and travel your way through this wonderful island.
Even if you've been there before, we guarantee you've never seen it like this!  We'll handle all of the coordination; you show up at the airport.
Travel dates of Thurs Oct 21 to Mon Oct 25, 2021
Grab our One Love Special to save 10% (limited quantities avaialble) or take advantage of our Easy Payment Plan with just a $150 deposit.
Registration is now open, so add it to your trip checklist!  Click here for all of the details.
Ultimate Trinidad Carnival 2022
The wait is over…Ultimate Trinidad Carnival 2022 has launched!
You've asked and we've included several upgrades fit your needs.
5-night Premium Experience dates of travel are Friday Feb 25 to Wed Mar 2, 2022.
Click here for more details on our website.
Keep in touch with us?  Click here to sign up for our mailing list – it's free.
Stay safe and well…
Til de next lime,
Esha and Tarik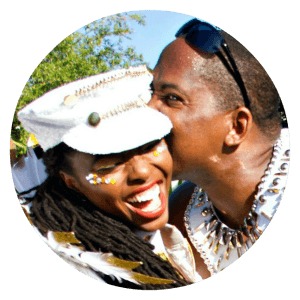 About Esha and Tarik:  Founders of Events by Ashé, a company that provides unique and life-changing Caribbean Experiences, Esha and Tarik are passionate about the Carnival lifestyle.  They even met during Trinidad Carnival back in 2006!  They are so passionate about Carnival that they created Ultimate Trinidad Carnival and Ultimate Crop Over to share these experiences with hundreds of clients around the world.  Click the links below to learn more!
You may also like: