Carnivalista Wishlist for Christmas
Hey, it's your girl Esha here!  Thanks for stopping by our blog, Carnivalista Lifestyle, where we help busy, professional women discover new cultures, attract what they want, love themselves and be comfortable in their own skin.  And today's blog is all about ANY Carnivalista's wishlist for Christmas!
As a Carnivalista for over 20 years, I can assure you that I would love ANY of the gifts on this list under my tree on Christmas morning.  I've organized the list into three parts based on the 3 things I love as a Carnivalista: Travel, Food and Carnival!
The businesses on this list are proudly Caribbean owned and operated.  And don't forget you can lend your support in an extra way: follow their Instagram links to boost their visibility on this platform!
Let's get started…
Carnivalista Wishlist for Christmas: Travel
Carnivalista Wishlist for Christmas: Food

Holistic Heights.  For Caribbean goodies such as high-quality sea moss, soursop tea and lots more, visit Holistic Heights at www.holisticheights.com or on Instagram @holisticheights
D'Vine Greens.  Help your Carnivalista kick off 2021 right by gifting her with made-to-order juices and supplements.  D'Vine Greens is a cold-pressed, small batched juice company at www.dvinegreens.com and @dvinegreens
Brunchnista.  I had the pleasure of meeting the Brunchnista last year at the She Prevails Conference!  She is delightful and obviously a smart business woman.  For the foodie who thinks brunch is the best thing on earth, her website is full of thoughtful and stylish gifts to give.  Visit https://www.brunchnista.com/new-products or follow sis on Instagram @brunchnista
Carnivalista Wishlist for Christmas: Carnival
Carnivalista Lifestyle: Joyous Self-Development for Hardworking Professionals and Entrepreneurs.  This is my second book, written for my Carnivalistas!  If the books When Stella Got Her Groove Back and Eat, Pray, Love were to meet and hook up at Trinidad Carnival, this book would be their child.  Part love story, part self-development journey (and the fun I had along the way), this book is perfect for your Carnivalista to curl up with over the holidays!  Purchase on Amazon; click here.
Fe Noel.  Fe Noel is for the Carnivalista who wants to stand out from the crowd and isn't afraid of colour!  This company is founded by Felisha Noel from Brooklyn, NY and is the daughter of Grenadian parents.  She has a passion for travel, a love of vibrant colour and a penchant for vibrant prints.  Sis has recently been featured in the December issue of InStyle magazine!  Go to https://www.fenoel.com or learn more on Instagram @fenoel
Merch Carnival.  Get something that will let your Carnivalista show her love of Carnival culture all year round.  Merch Carnival is an online shopping experience.  They aim to connect lovers of Caribbean and Carnival culture to merchandise that expresses that love.  Their website is https://www.merchcarnival.com.  You can also show them some love in Instagram @merchcarnival
And there you have it; your Carnivalista's wishlist for Christmas.  (Psst: don't forget to treat yourself okay? I promise I won't tell).
Now over to you: what gift(s) on this list is your favourite?  Leave me a comment below!
Til de next lime,
Esha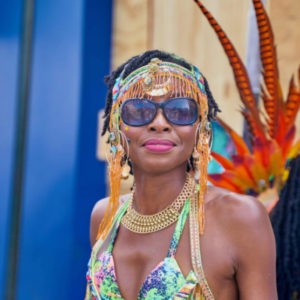 About Esha:  As an event curator with over 20 years of experience (whose been to 5 out of the 7 continents), Esha's helped professional women who don't have the time, energy, or resources to plan their own vacations so they can travel and enjoy unique, life-changing Caribbean experiences. Click the links below to learn more!
You may also like: