My Jamaica packing list
Thanks for stopping by our blog, Carnivalista Lifestyle, our blog where we help busy, professional women discover new cultures, attract what they want, love themselves and be comfortable in their own skin.  It's your girl Esha here and today I'm back with a video that I shot back in 2019 about my Jamaica packing list.
In case you're thinking, "Wait.  2019?"  Allow me to explain.  I shot this with the the intention of sharing it in early 2020 as promotional video for our Eat, Dance, Travel: Jamaica 2020 trip, but then Coronavirus happened and the world shut down.
And here we are!
Although Jamaica Carnival is not one of our done-for-you travel experiences, we still have others to choose from.  Click here to visit our website.
Check out the video and then the packing list is below that.  Enjoy!
Here's what I mentioned in the video (not affiliate links):

Here's your Jamaica packing list for a beach vacay:
Sunscreen – don't make the mistake of purchasing this when you arrive!  It can be quite expensive in the Caribbean.
Sun hat
Swim suit
Beach towel – check with your hotel or rental provider.  Most will provide beach towels for you.
Sunglasses – don't forget your sunnies to protect your eyes!
Snacks
Flip flops and beach shoes – depending on the beach, you might want to purchase beach shoes to protect your feet.  They are very inexpensive if you buy them at home and take them with you.
Beach cover up – an essential so you can walk around the pool or beach to grab your next drink!
A small amount of cash – if you're not at a beach on an all-inclusive resort, you might want to bring a small amount of cash with you for drinks, coconot water (yum) and anything else that catches your eye
Beach bag – make sure it's packable and lightweight so you don't add unnecessary weight to your luggage
Now over to you:
What's on your Jamaica packing list or your list for any other warm weather destination?  Tell me in the comments below!
Thanks for stopping by…
Til de next lime,
Esha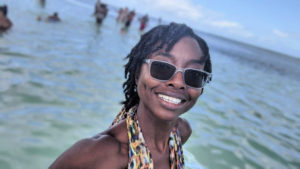 About Esha:  As an event planner and travel curator with over 20 years of experience (whose been to 5 out of the 7 continents), Esha's helped professional women who don't have the time, energy, or resources to plan their own vacations so they can travel and enjoy unique, life-changing Caribbean experiences. Click the links below to learn more!
You may also like: