5 things I miss about Trinidad Carnival 2022 being cancelled
Hey, thanks for stopping by our blog, where we write about travel, food, getting your life together and (of course) Carnival!  It's your girl Esha here.  And lately, since Trinidad Carnival 2022 was cancelled (pretty much), I'm really missing it, like many people around the world who are Carnivalistas (and Carnivalistos)!
In case you weren't aware, Trinidad Carnival 2022 was pretty much cancelled.  Normally, events such as major competitions, parties (also known as fetes), parades and revelry of all kinds would have been happening right now and continuing until Feb 23, 2022 if it weren't for COVID-19.  There will be a handful of ticketed events happening in Trinidad for vaccinated persons only.  And the feeling of extreme sadness and the void (also known as a tabanca) is real!
So, to add insult to injury (and perhaps I'm a sucker for punishment), I'm counting down with you the top 5 things I miss about Trinidad Carnival.  Perhaps just writing about it will help to ease the pain.  I'm hoping at least anyway!
#5 of what I miss about Trinidad Carnival: pretty mas
If you're new to the Trinidad Carnival lingo, let me bring you up to speed.  "Pretty mas" is used to refer to the beautiful, feathered and beaded costumes that you've seen in pictures and videos.  In direct opposition to "dutty mas", which refers to J'ouvert (more on that later), pretty mas is when everything is glittery, made up, propped up and locked and loaded.   All of this in the name of unleashing pure joy and bacchanal on the streets of Port of Spain, which is the capital of Trinidad and Tobago.
What do I miss about this the most?  The anticipation!  And this anticipation is two fold.  Firstly, I miss the anticipation of trying on my own costume that I've been dreaming about and lusting over for the past few months.  Costume orders are typically placed in August of the previous year, so it's usually a long wait to finally see my costume and put it on for the first time!
The second part of the anticipation is all about the look of joy and the light in the eyes of my clients when they try their costume on for the first time.  With our Ultimate Trinidad Carnival clients, we perform personalized costume fittings to make sure that everything fits.  During this fitting, we'll also make sure that our clients know how to wear all of their costume pieces.  When the feathers – a headpiece or backpack – go on, that's when the internal transformation happens and the looks of joy on their faces is such an amazing experience.  I truly miss it since Trinidad Carnival 2022 is cancelled!
Here's a little pretty mas in action during the Trinidad Carnival Parade!
#4 of what I miss about Trinidad Carnival: not having to cook!
Okay, this one is a little bit more personal but one of the things that I love about travel in general is not having to cook.  I'm the primary cook in my house.  Don't get me wrong, hubby does a great job of getting take out from time to time!  When I travel, I don't want to even touch a stove if it's not necessary!
And especially during Trinidad Carnival time, with all of the delicious food options available, I definitely don't want to cook.  I want to eat doubles and wontons at Lime at the Hyatt, corn soup in the Penthouse at Sunny Side Up, go to Ariapita Avenue for lunch, get a roti at our Ultimate Trinidad Carnival privately catered dinner; I want to eat it all!  And the drinks?  All-inclusive bars everywhere!  They're the perfect companion to all of the amazing food.
#3 of what I miss about Trinidad Carnival: the excitement of going somewhere (anywhere)? (Can I get an Amen?)
Okay, so we've all been in some sort of lock down for almost 2 years, right? Perhaps you haven't felt safe enough to get on a plane.  So, I'm sure it's safe to say that you're missing travel and escape just as much as I am!
Since Trinidad Carnival is usually planned in advance for at least 9 months to a year out, it provides me with a lot of time to look forward to something special, unique and thrilling.  And even though I've been to Trinidad and Tobago countless times over the past 33 years (and over 20 of those were specifically for Trinidad Carnival), the feeling never gets old.  As soon as I can see the island of Trinidad through the window of the airplane (I always have a window seat), I start to get butterflies.  When the plane lands and everyone erupts into applause, my excitement is evident and giddy.  When I finally leave customs and get outside to meet my transport, the feeling of the warm air on my skin just greets me like an old friend.  And with Trinidad Carnival 2022 being cancelled, I will definitely miss that this year.
A good friend of mine always said Trinidad Carnival is the perfect winter break.  When you leave to head there, it's usually in the depth of winter.  But when you come back, winter seems more bearable and, in your head, you think spring is right around the corner.  *Sigh* my annual winter break is gone!
#2 of what I miss about Trinidad Carnival: connection
Oh, real connection.  I remember you, old friend.  This is certainly something we all took for granted pre-COVID right?  And what I especially miss about connection as it relates to Trinidad Carnival is looking into someone's eyes, smiling (and seeing a smile in return) and starting a conversation or asking them where they're from or in the case of my clients, if they're enjoying the fete.  It's not out of the ordinary during Trinidad Carnival to hug up with a stranger as best friends, even if you just met.  Every year, our Ultimate Trinidad Carnival group are mostly strangers who become connected over the course of 6 days.  We all become fam-a-lay, a Trinidad Carnival family because Trinidad Carnival is connection in its purest form!
Here's one of our videos about the connection during Trinidad Carnival!
 #1 of what I miss about Trinidad Carnival: J'ouvert
As if the past 4 things haven't been tough enough, this one is what I'm going to miss the most.  You have no idea what it's like for me to miss getting paint on my skin, or holding my drink cup in hand, while chipping down de road or jumping around, feeling completely free and joyful!  I haven't missed J'ouvert in my life for over 20 years and this is true torture.
I feel like J'ouvert brings together everything on the list, yes even pretty mas.  Without J'ouvert, the ritual of getting clean to play pretty mas is meaningless.  I miss having breakfast on the corner (before getting dutty), whether it's bake and saltfish or corn soup.  It's all delicious and gets you ready to dance through the streets.  Leaving the hotel under the darkness of night feels exciting, like you're heading out on an adventure.  And talk about connection?  At what other festival can you get to know someone better than putting paint on them and then dancing through the streets arm in arm or jumping and singing soca music together?  People come to J'ouvert specifically as strangers and acquaintances but they leave as lifelong friends due to their shared experience!  Now, do you understand why I miss this the most?
In case you've never experienced J'ouvert, get just a little taste of it below!
 Carnival 2024, soon we will be "Reunited" and it will feel so so good! (Channel your best Peaches and Herb!)
Hmmm, writing this felt strangely cathartic to me; thank you for reading!
Now over to you:
Tell me: what will you miss the most about Trinidad Carnival this year?  Leave me a comment below!
And if you'd like to experience all of this with us at the next Ultimate Trinidad Carnival, click here to visit our website.
Thanks as always for reading.  Until we can meet at the next Trinidad Carnival…
Til de next lime,
Esha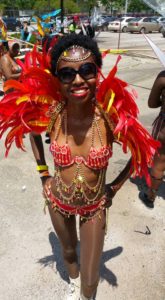 About Esha: As an event planner and travel curator with over 20 years of experience (whose been to 5 out of the 7 continents), Esha's helped professional women who don't have the time, energy, or resources to plan their own vacations so they can travel and enjoy unique, life-changing Caribbean experiences. Visit our website or click the links below to learn more!
You may also like: