5 Caribbean destinations with less travel restrictions
Hi there and welcome to our blog, Carnivalista Lifestyle.  You may be wondering where to travel right now or in the near future.  But, with all of the travel restrictions, required COVID testing and the vastly different regulations you're coming across as you research each destination, you're feeling overwhelmed, right?  Enter our video below in which we give you information about 5 Caribbean destinations with less travel restrictions that you can get to right now.
Disclaimer: This video is for informational purposes only.  Events by Ashé shall not be responsible for any loss, accident, injury, delay, defect, omission or irregularity which may occur or be occasioned, whether by reason of any act, negligence or default of any company or person engaged in or responsible for carrying out any of the arrangements, or otherwise in connection there with.
Check out the video below:
Here's some more information for you to check out on these Caribbean destination's tourism websites:
Click each link below
Want to skip the overwhelm and have someone plan everything for you?  Have absolutely no interest in staying on top of travel restrictions as they pop up?  Then let us handle the booking and coordination of your next vacation!  We offer our Travel Vision Consultation service to help you plan your ideal trip.  Click here for more details and to book a consultation today.
Now over to you: where are you off to first when you feel safe enough to travel?  Comment below.
Thanks as always for stopping by!
Til de next lime,
Esha and Tarik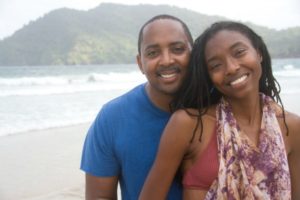 About Esha and Tarik:  Founders of Events by Ashé, a company that provides unique and life-changing Caribbean Experiences, Esha and Tarik are passionate about the Carnival lifestyle.  They even met during Trinidad Carnival back in 2006!  They are so passionate about Carnival that they created Ultimate Trinidad Carnival and Ultimate Crop Over to share these experiences with hundreds of clients around the world.  Visit their website by clicking here or click the links below to learn more!
You may also like: