3 unique vacations you can have right now
Hi there! Welcome to our blog Carnivalista Lifestyle; it's your girl Esha here.  Chances are, you've got it in mind (somewhere) that you're ready to travel.  However, you also don't want to have the same travel experience as everyone else right now.  You want to have a unique vacation, right?
Then, this vlog's for you!  In filming and writing this blog, I was inspired by the responses that we've received for our Travel Survey.  And…there's still time to give us your feedback to win a prize!  Click here to find out more about our Travel Survey.
Check out the video below for 3 unique vacations you can have right now:
Here's what I talked about in the video:
(1) Yachting
This experience topped our Travel Survey results by far!  I consider this to be the best unique vacation to have right now with a small group of friends and family members.  You can all socially distance in the open air, with the sea breeze on your face.
If the vessel is large enough, you can even sleep on the yacht.  Add a private chef to prepare your meals and other staff to wait on you hand and foot?  The perfect vacay.
A couple of Caribbean destinations you'll want to check out are the US Virgin Islands and the British Virgin Islands.  I say this because you can visit a variety of islands within a short boating distance during your travel experience.
An Instagrammer I vicariously live through is @socayachtcharters.  Owned by a black woman (a rarity in the industry), Soca Caribbean Yacht Charters offers

black car service, yacht crew and gourmet cuisine on a luxurious yacht!

Bonus: as of the writing of this blog, US citizens and permanent residents returning from the US Virgin Islands to the mainland US do not require a negative COVID test.
(2) Rent a private island
I absolutely love this unique vacation and think it's a great option for large groups of friends and family members.  There are islands where you can rent the entire island, just for your group.  These islands usually have private villa accommodations (think over the water bungalows) or some have beach front accommodations.
Generally, it's easy to socially distance and still hang out with your peeps in paradise.
Top locations to check out: Belize, especially the Caye islands and if you can afford it, Necker island, owned by Sir Richard Branson himself.
(3) Glamping
So, please allow me to explain.  Glamping is glamorous camping and I recently learned more about it when I was planning an entrepreneur's retreat for a client.
If you're in the travel window 6 months out, then glamping will be fantastic in the fall!  Imagine being surrounded by all of the fabulous fall colours – in comfort.  With heat, running water and an indoor bathroom.  You can find all of this in glamping.
To get the fall colour experience, timing is key.  If you're planning for the eastern US, usually from early October to early November, up and down the east coast you can find glamping sites.
Again, this unique vacation makes it easy to socially distance and have outdoor activities with your crew.
Check out: Huttopia (pronouned utopia), a French company with numerous European locations plus Canadian and northeastern US sites.
Now over to you: Which of these unique vacations would you do?  Yachting, a private island or glamping?  Leave me a comment below!
Also, don't forget to give us your feedback in our Travel Survey!  Click here to take the survey.
Thanks for reading!
Til de next lime,
Esha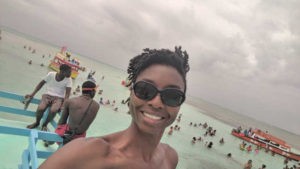 About Esha:  As an event planner and travel curator with over 20 years of experience (whose been to 5 out of the 7 continents), Esha's helped professional women who don't have the time, energy, or resources to plan their own vacations so they can travel and enjoy unique, life-changing Caribbean experiences.  You can visit her website for more information or click the links below to learn more!
You may also like: