Top 10 things to experience during Trinidad Carnival time
Hello, hello, hello!  Welcome to our blog, where we help busy, professional women discover new cultures, attract what they want, love themselves and be comfortable in their own skin.  It's your girl Esha here.  So, come Trinidad Carnival time you might be wondering what you must do!  This vlog kicks off our series of the 10 things to experience during Trinidad Carnival.
It's a perfect refresher as we get ready to launch our Ultimate Trinidad Carnival 2024 packages on January 31! 
Get started with the video replay below:
#10 of the 10 things to experience during Trinidad Carnival time
We know you're thinking you wouldn't really associate shopping with Trinidad Carnival, but there are many unique clothing and beautiful decorative items that you can purchase while in Trinidad.
The next question you must be asking is, "Okay, so what can I get?" The answer is everything! From custom made sandals and home artifacts to European brands not found in the US, you can get unique gifts for loved ones (and for yourself).
A few of the things I mentioned in this video that you can get during Trinidad Carnival time are:
Your costume backpack, headpiece and costume pieces.  You definitely want a beautiful reminder of your Trinidad Carnival experience, so bring it home with you!  As part of Ultimate Trinidad Carnival, we offer a backpack/costume shipping service, so you don't have to worry about bringing it home in your suitcase.
Hand-crafted jewelry and natural skin care products.  As you saw from my beautiful earrings that I wore in the video replay, there are so many beautiful pieces to be bought during Trinidad Carnival time.  You can definitely grab some at the Carnival Village (mentioned below).  As far as natural skin care products go, there's lots to buy that are made with natural and local ingredients.
Artwork, artwork and more artwork.  From the very first pieces I bought in 2007 to a few pieces I picked up in Tobago at the Argyle Falls, there are so many talented artists to support in Trinidad and Tobago.
If you prefer shopping in a mall…
Then head to the Falls at West Mall. Easily the largest mall in Trinidad, you'll get everything you need (and want) at this location. There are also flagship stores from local and trendy designers like Radical Designs.  Radical Designs also has a store at the Piarco International Airport, so you can also grab something before heading home.
Also highly recommended is Anya Ayoung Chee, past Project Runway winner.  She also has a store not too far away from the Hilton Trinidad, where you can find unique clothing, accessories and Monday wear.
*Update*: one of my new faves in Trinidad is BeneCaribe.  Their batik prints are drool-worthy and their IG feed makes me want to buy everything!
Prefer outdoor shopping with the locals?
Then the annual Carnival Village will be right up your alley. Every year, Carnival Village is built around the Queen's Park Savannah and it's packed with all kinds of vendors selling art, clothing and delicious sweets to take home with you.  I especially love the hand-crafted, leather sandals and artwork you can get from these extrememly talented artisans.
Our 5-night Premium Experience will get you to Trinidad Carnival, but if you really want to get some shopping in we highly recommend our 2-night Upgrade or our Tobago Love Upgrade.  With either of these Upgrades, you'll have additional time to fit in some shopping between all of the partying!
Now over to you:
What have you bought in Trinidad before?  If you've never been, what are you looking forward to buying?  Leave me a comment below.
Stay tuned for the rest of the countdown!
Til de next lime,
Esha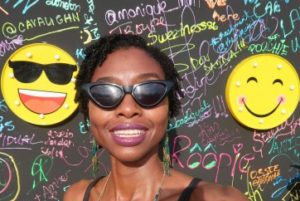 About Esha:  As an event planner and travel curator with over 20 years of experience (whose been to 5 out of the 7 continents), Esha's helped professional women who don't have the time, energy, or resources to plan their own vacations so they can travel and enjoy unique, life-changing Caribbean experiences. Visit our website or click the links below to learn more!
You may also like: