Birthday Thoughts of Gratitude
Come eeen, come eeen!  It's your girl Esha here.  Thanks for stopping by our blog.  Carnivalista Lifestyle.  This is a blog about travel, food, getting your life together and de Caribbean Carnival culture.  I had my weekly Live today and since it's my birthday weekend, I decided to reflect on birthday gratitude.  Tek a watch below for more…
Here's what I talked about in de video:
My latest make is Very Easy Very Vogue: V8930.  It's actually still in print, although I bought it – let's just say a very long time ago.  The fabric is a very thick fleece that I got from Fabricland in Toronto when I went fabric shopping with my sis!  Again, a very long time ago.  For those of you in the US, Fabricville is its American counterpart.  I defintely am feeling big birthday gratitude with this make!
3 tings coming your way in November:
(1) 3 Things to Know about Carnival Right Now on Tuesday Nov 16, live with me!  If you want to find out the 3 Carnivals that will happen in 2022 and beyond, how to create a life-changing Carnival Experience and get your questions answered about Carnival during the pandemic, then you gotta join this event.  Register for free today; click here.
(2) While the exact launch date is pending, our new website dedicated to destination weddings, corporate retreats and girls getaways is coming!  By Nov 25 our new website will be ready.  As with our travel experiences, these will be coordinated, researched and planned for you.  All you'll need to do is pack and show up, prepared to have fun in de sun!  I feel so much birthday gratitude for the continued global client love we're receiving, to be able to expand during this time!
(3) De next lime is in Grenada at Ultimate Summer Carnival 2022; trust us.  And now that we only have 5 rooms left (told you I was expecting some bookings today right?), de countdown is on!  Join us for a life-changing experience; all you need to do is pack and show up.  We'll handle everything else.  Visit our website for more information and to grab your spot: click here.
Well, I know I'm going have a great birthday weekend (grin).  Hope you have a great one too and as always…
Til de next lime,
Esha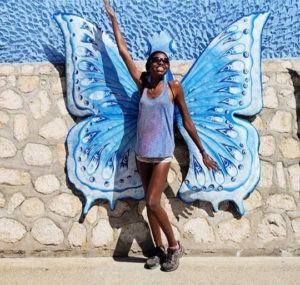 About Esha:  As an event planner and travel curator with over 20 years of experience (whose been to 5 out of the 7 continents), Esha's helped professional women who don't have the time, energy, or resources to plan their own vacations so they can travel and enjoy unique, life-changing Caribbean experiences.  You can visit her website for more information or click the links below to learn more!
You may also like: