Have You Forgotten How to Travel Dream?
Hello to you!  It's your girl Esha here.  Welcome to Carnivalista Lifestyle, our blog about travel, food, getting your life together and de Caribbean Carnival culture.  I had my weekly Live today and I shared 2 tips for you just in case you've forgotten how to travel dream.  Ready to dive in?  Watch the replay below:
Here's what I talked about in de video:
My latest sewing show and tell is the Tabitha tshirt dress from Tilly and the Buttons!  Wearing this dress makes me feel like traveling since it's lightweight, barely wrinkles and is very comfy.  The fabric is a bamboo rayon fabric from Emerald Curtain Fabric, a black-owned, custom fabric creator.  They're called "ankara triangles" and the large "Mother Africa panel".  Be sure to support both of these small businesses!
2 tips to help you travel dream again:
(1) Start small.   Think of going somewhere that's easily reachable and not too far out of your comfort zone.  That may mean getting on a plane; it may mean driving an hour to your cousin's house!  Whatever works for you to travel; start small to get going.
(2) Book the time off.  As I mentioned in the video, one thing that really works for me, is blocking the time off on my calendar.  If it's not on my calendar, it's not going to happen!  Same concept here; if you're not self-employed, then take the step to request the PTO or vacation time.  Trust me.  Taking this step can really motivate you!  Once it's approved, even if you don't know where you're going, you're going to start making plans to go somewhere and make your travel dream a reality.
Hope you enjoyed these tips!  And here are 2 more tings I mentioned:
To really kick your travel dream into high gear, join us for our free Travel Dreaming Challenge being held on Jan 7 to 9, 2022!  Our MVP tips will help to Motivate, Verify and Prioritize your travel dreams in 2022.  Trust me, you don't want to miss this event.  Did I mention it's FREE?  Click here to sign up!
There's only 1 room left in Ultimate Summer Carnival 2022!  De next lime is in Grenada to experience Spicemas; trust me.  Join us for a life-changing experience; all you need to do is pack and show up.  We'll handle everything else.  Visit our website for more information and to grab this final room (for permission to travel dream even more): click here.
Now over to you: which travel dream tip did you like best; Start Small or Book the Time Off?  Leave me a comment below.
Til de next lime,
Esha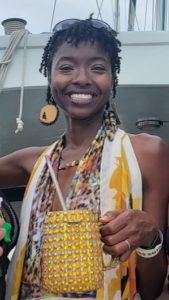 About Esha:  As an event planner and travel curator with over 20 years of experience (whose been to 5 out of the 7 continents), Esha's helped professional women who don't have the time, energy, or resources to plan their own vacations so they can travel and enjoy unique, life-changing Caribbean experiences.  You can visit her website for more information or click the links below to learn more!
You may also like: