Our Travel List – the March Edition
Oh hello there! Thanks so much for stopping by Carnivalista Lifestyle, our blog about travel, food, getting your life together and the Caribbean Carnival culture. Looking to beef up your travel bucket list? This is the blog for you!
Here's what's on our travel bucket list this month:
Please note, this list is chronological. Our virtual events are towards the top and then you'll see our in-person travel experiences. You can scroll directly to the end for those.
Friday Live with Esha
Every Friday at 12:30 pm EST, join Esha on Facebook and YouTube as she goes live to spread a little positivity, while talking about various topics like travel, food and the Caribbean Carnival culture. You'll be sure to get some info to add to your travel bucket list every week!
To get a notification of when Esha's live every Friday, like our Ultimate Trinidad Carnival Facebook page to get notified. Click here to visit and like our Facebook page. You can also subscribe to our YouTube channel to get notified; click here.
You Are Enough: 3 Ways to Stop Feeling Exhausted and Start Living Your Daydreams
The COVID-19 exhaustion is real right? External circumstances aside, chances are you were already spreading yourself too thin pre-pandemic, though.

If you're done with feeling exhausted and want to face each day with more energy and excitement, then you have to j

oin Esha for this free webinar on March 15!

Grab VIP access and you'll get some great bonuses, including lifetime access to the recording.

Learn simple tips to bring your daydreams to life; click here for more info.
Ultimate Girls Getaway 2022 – the Preparing For Love Edition
It's coming! The Girls Getaway you've been waiting for that will help you to find (and keep) love. In the last quarter of 2022, join us in the Caribbean for a retreat – by black women, for black women – where you'll learn how to prepare for love on your terms, by being exactly who you are.
Our packages have launched and we have some special bonuses for you if you're 1 of the first 6 women to register! Click here to find out more.
The Travel Dreaming Challenge
Haven't been travel dreaming? Who hasn't during this pandemic, are we right? Well, in April, we'll help you out with our Travel Dreaming Challenge!
Can't seem to envision where you want to go? We'll show you have to create a travel vision board to get your juices flowing again.
Is money the issue? We'll give you some budgeting tips and ways to maximize your travel points.
If you're thinking you don't have enough vacation/PTO time? Then our tips for making the most of the time you've got will help.
Date: April 2022. Yes, the Travel Dreaming Challenge will be happening for 3 days!
It'll be a free virtual event you won't want to miss. Get on our mailing list for more info; click here!
Ultimate Summer Carnival 2022
We now have released a final 5 rooms in Ultimate Summer Carnival 2022. They won't last long though!
Grenada's Spicemas is the first Caribbean Carnival Parade happening in 2 years! You won't want to miss it.
No need to worry; everything is coordinated and booked on your behalf from your accommodations to your costume to your ground transportation.
Once these 5 rooms are gone, dey gone. So book now to grab your spot!
Travel dates of Fri Aug 5 – Wed Aug 10, 2022.
For package details, FAQs, Easy Payment Plan info and more, click here.
Ultimate Trinidad Carnival 2023
Our Ultimate Trinidad Carnival 2023 packages have launched and we've already sold 28% of our rooms! At this rate, we'll be sold out in no time so visit our website to grab yours. Click here.
As with all of our planned group travel experiences, all you need to so is pack and show up. See our video below for more!
The Tobago Love Experience
Our Tobago Love Experience 2022 is postponed to 2023. Tobago remains one of our top destinations and we can't wait to get back there with you!
Our final Tobago Love packages are coming. Join our mailing list to be the first to know when they're ready; click here.
Ultimate Summer Carnival 2023
It's back to Barbados in 2023 for our 2nd Ultimate Summer Carnival Experience…
Crop Over a.k.a. "de sweetest summer festival" will be epic! Everything is coordinated and booked on your behalf from your accommodations to your costume to your ground transportation.
Book now and take advantage of an extended Easy Payment Plan 😉
Travel dates of Thurs Aug 3 – Tues Aug 8, 2023.
For package details, FAQs, Easy Payment Plan info and more, click here.
Travel bucket list good? Great. Thanks for stopping by and as always…
Til de next lime,
Esha and Tarik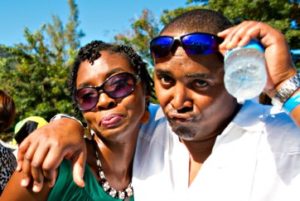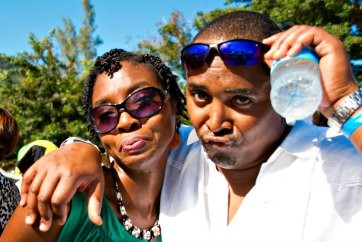 About Esha and Tarik: Founders of Events by Ashé, a company that provides unique and life-changing Caribbean Experiences, Esha and Tarik are passionate about the Carnival lifestyle. They even met during Trinidad Carnival back in 2006! They are so passionate about Carnival that they created Ultimate Trinidad Carnival, Ultimate Summer Carnival and Ultimate Girls Getaways to share these experiences with hundreds of clients around the world. Visit their website by clicking here!