Our Travel List – the May Edition
Hi there!  Welcome to Carnivalista Lifestyle, our blog about travel, food, getting your life together and the Caribbean Carnival culture.  Now that travel is opening up, if you have a vacation list to plan, then we got you!  Our monthly travel list shares our virtual and in-person events.  See below…
Here's what's on our vacation list this month:
Please note, this list is chronological.  Enjoy de read!
Friday Live with Esha
Most Fridays at 12:30 pm EST, join Esha on Facebook, YouTube and LinkedIn as she goes live to spread a little positivity, while talking about various topics like travel, food and the Caribbean Carnival culture.  You'll be sure to get some info to add to your vacation list every week!
To get a notification of when Esha's live:
You Are Enough: 3 Ways to Stop Feeling Exhausted and Start Living Your Daydreams
We're taking this topic on de road allyuh!  Join Esha at the next Christian Business Owners Network meeting (CBON) for *gasp* in person networking with a great group. 

Location: Durham Bottling Company

For details and to register (it's FREE), click here.
Black Travel Expo is almost here!
Who's a confirmed speaker at the 1st ever Black Travel Expo being held in Atlanta, GA?  Esha is!
Did you know it's estimated that African-Americans spent $110B in 2019?  That's B for BILLION and that's one of the reasons this event was created by Maurice Foley; it's an event that speaks to our unique travel needs.  Created by us, for us!
It's free to attend, however you have to register.  There's also a 3-day pass that you can purchase for exclusive access to other events!
Dates: Fri June 3 and Sat June 4
Location: Marriott Marquis Atlanta, GA
Don't forget to let us know you're coming through 🙂
Visit the event website for more info and to grab your spot!  Click here.
Summer Virtual Carnival Extravaganza
Presented by our business besties, Face Candy Studio, this virtual event will be everything Carnival!  It's a Virtual Carnival Experience designed to showcase Black or Caribbean vendors/entertainers dedicated to carnival and travel.

We're a featured vendor and would love for you to join us at this event!
Date and time: Thurs June 30 from 12pm – 12am
To register for this free event, click here.
Ultimate Girls Getaway 2022 – the Preparing For Love Edition
It's coming!  The Girls Getaway you've been waiting for that will help you to find (and keep) love.  In the last quarter of 2022, join us in the Caribbean for a retreat – by black women, for black women – where you'll learn how to prepare for love on your terms, by being exactly who you are.  You've gotta add this to your vacation list; especially since it's a retreat with a purpose.
Join the co-hosts of this retreat, Esha and Sabriya Dobbins of Project Passport LIVE on May 20 as they talk about 1 of the myths they both rejected to attract love.  Contact us via our mailing list for more info.
Travel dates of Fri Nov 4 to Mon Nov 7, 2022.
Our packages have launched and we have some special bonuses for you if you're 1 of the first 6 women to register!  Pricing will go up June 1.  Click here to find out more.
Ultimate Summer Carnival 2022
We now have a final 4 rooms in Ultimate Summer Carnival 2022.  They won't last long though!
Grenada's Spicemas is happening for the 1st time in 2 years!  You won't want to miss it.
No need to worry; everything is coordinated and booked on your behalf from your accommodations to your costume to your ground transportation.
Once these 4 rooms are gone, dey gone. So book now to grab your spot!
Travel dates of Fri Aug 5 – Wed Aug 10, 2022.
For package details, FAQs, Easy Payment Plan info and more, click here.
Ultimate Trinidad Carnival 2023
Our Ultimate Trinidad Carnival 2023 packages are now SOLD OUT!
The Tobago Love Experience
Our Tobago Love Experience 2023 packages are now SOLD OUT!
Ultimate Summer Carnival 2023
 It's back to Barbados in 2023 for our 2nd Ultimate Summer Carnival Experience…
Crop Over a.k.a. "de sweetest summer festival" will be epic!  Everything is coordinated and booked on your behalf from your accommodations to your costume to your ground transportation.
Book now and take advantage of an extended Easy Payment Plan 😉
Travel dates of Thurs Aug 3 – Tues Aug 8, 2023.
For package details, FAQs, Easy Payment Plan info and more, click here.  Check out our video below for more details!
Vacation list good?  Of course, if you have any questions about our vacation list, call/text us at (919) 697-8772 or contact us.
Remember, you deserve love, happiness and travel!
Til de next lime,
Esha and Tarik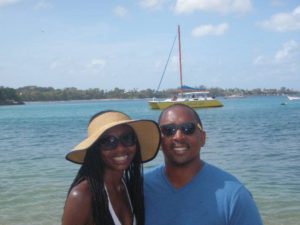 About Esha and Tarik:
Founders of Events by Ashé, a company that provides unique and life-changing Caribbean Experiences, Esha and Tarik are passionate about the Carnival lifestyle. They even met during Trinidad Carnival back in 2006! They are so passionate about Carnival that they created Ultimate Trinidad Carnival, Ultimate Summer Carnival and Ultimate Girls Getaways to share these experiences with hundreds of clients around the world. Visit their website by clicking here
!