4 Ways To Experience Luxury In Barbados
Come eeen!  Welcome to our blog Carnivalista Lifestyle, which is all about travel, food, getting your life together and the Caribbean Carnival culture!  And if you're thinking experiencing luxury in Barbados isn't possible, this is the blog for you.  The video below will definitely change your mind…
Here are the ways to experience luxury in Barbados that I mentioned in the video (with some links for you to check out):
#1: Have a 5-star dining experience
There are so many 5-star dining experiences to have on Barbados!
1 of my faves that I visit again and again with our Ultimate Crop Over clients is Tides Restaurant, located on the Platinum Coast (where Rihanna's house is)
They have a 3 course fixed price menu where you get an appetizer, entree and dessert.  The food is beautifully presented, delicious and fresh!
You'll get to enjoy it all while taking in the gorgeous view
Other 5-star spots to check out: Lonestar, The Cliff and The Grille
#2: Relax on a world class beach
Barbados is home to one of the most renowned beaches in the world: Crane Beach
Known for it's pink-tinged sand and the glass elevator that takes you to and from the sand, this beach is free and open to the public, although it is associated with the Crane Resort (a Hilton property)
Be sure to check out the Grove Beach Bar and Grill for their delicious (and dangerous) rum punch!  They also have a full menu for when hunger strikes!
Crane Beach waves can be rougher depending on the time of year you visit, so my fave beach in Barbados is Carlisle Bay, which is much more swimmable
When there, I must stop at Chris' Coconut Cocktails (@chriscoconutcocktails) and Cuzz's Fish Stand for the local delicacy – cutters – when I'm there next with our Ultimate Crop Over clients
#3: Do high tea like royalty
One of my fave things to do is high tea!
There's something about mini treats, delicious smelling and tasting tea, champagne and beautiful scenery that is heaven to me
And I especially recommend doing high tea at the Sandy Lane Resort, a luxury resort in Barbados
You don't have to stay there to have this awesome experience!  Just book on their website and prepare to be spoiled 😉
You can add a number of enhancements to your high tea experience (like champagne, which I highly recommend)
#4: Book a private yacht
Since Barbados is surrounded by so much beautiful water, it only stands to reason that there would be many yacht providers there
There are many amazing yachts there and so many beautiful and luxurious experiences
You'll get everything from a champagne sunset cruise to a multi-day sailing adventure, complete with a private chef
If you'd like an option that is easier on your wallet, offering a friendly crew who will take care of you, then I highly recommend Tiami Catamaran Cruises
They do not have yachts; they have catamarans.  And they offer delicious food, a well-stocked bar and miles of smiles!
Want to experience a couple of these on the list yourself?
Then join us this year at the next Ultimate Crop Over Experience!  In addition to the luxury in Barbados that I mentioned above, you'll also get to experience Barbados Carnival!  Barbados isn't called "de sweetest summer festival" fuh nuttin.  Visit our website for more information about Ultimate Crop Over and how we can help you get there: click here.
Now over to you:
What are your fave luxury travel experiences?  Tell me below in the comments.
Til de next lime,
Esha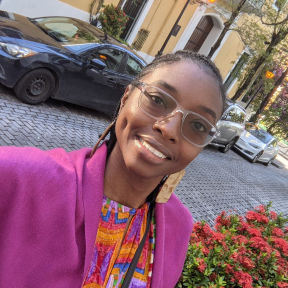 About Esha: As Travel Curator and Carnivalista in Chief of Events by Ashé, a company that provides unique and life-changing Caribbean Experiences, Esha is passionate about creating travel experiences for the busy, professional woman who doesn't have the time to plan her own vacations.  Visit her website by clicking here or click the links below to learn more!
You may also like: