Top 5 Things to Experience in Tobago
Welcome to our blog where we're all about travel, food, getting your life together and the Caribbean Carnival culture!  You're probably here because Tobago travel is on your list.  And this is the place to be because you're about to see the top 5 things to experience in Tobago.  In case you didn't know, Tobago was recently named the "most desirable island" at the Travel Awards in London. And we can't agree more!
Firstly, it's so great to be able to share all of this with you!  Tobago is the ancestral home of Esha's family and is 1 of our top 3 destinations on the planet.  We've traveled a lot – been to 6 of 7 continents in fact.  And Tobago continues to be one of our fave places to visit.
Leh we show you why Tobago travel should be on your list. Here's a lil snippet fuh yuh:
#5: Limin' with a view
Okay, let's bring you up to speed on the lingo.  Limin' (pronounced like the fruit lime) is a very Trinidadian word that means to hang out and chill.  A lime usually includes food, drinks, music and an overall relaxed vibe.  And we especially love Tobago for being able to do this with a spectacular view.  There are many little nooks around this island where you can relax with a drink in hand, preferrably after a meal and just watch the day go by.
A few of our faves are Glasgow Bar in Parlatuvier, de Rooftop at Comfort Inn in Scarborough and Waves in Black Rock.
#4: Snorkeling (and other water activities)
Now here's something you might not know about Tobago: it's the place to visit for some of the best snorkeing in the Caribbean!  Yep.  Tobago is home to the largest brain coral in the world and has quite a few sites that attract snorkelers from near and far.  We definitely encourage you to go off the beaten path here.  Although one of the most popular spots is the Buccoo Reef, go to the north of the island to Speyside to see the Japanese Gardens.  Charlotteville is also a good option.  Heading to the west of the island at Castara will also give you some good snorkeling.
For other water sports, there isn't a shortage of these either.  From glass bottom boat tours to wind surfing to catamarans and everything in between, you'll get your fill!  A main stay on the island is right at Pigeon Point Beach, Stand Up Paddle Tobago.  If you're really into boat racing, then you won't want to miss the annual Great Race!
#3: Tobago Carnival
2022 was an epic year as it marked the 1st Tobago Carnival that wasn't held at the same time as Trinidad's Carnival!  And what a time it was.  As this festival continues to grow, it will become a much anticipated event on the Caribbean Carnival calendar.  Given the artists, music and raw talent of Tobagonian people, Tobago Carnival will only flourish in the future.
Not to be missed at Tobago Carnival?  The amazing Mud Festival, Rox-Glo (night mas in Roxborough) and of course the culmination of the festival at the Tobago Carnival Parade.  We especially love that the Parade goes through the capital city of Scarborough, where you can dance right past the ocean!
You may want to join us at our next Ultimate Bago Carnival Experience to see it for yourself, right?  Click here for more info.
#2: the Fantastic Beaches
Tobago is the easily the most popular vacation spot for Trinidadians (yeah, we said it).  And it's mainly because of the wonderful (and mostly free) beaches.  For us, it's because said beaches are very relaxed.  Tobago on the whole isn't very touristy, so the beaches there are very laid back and you can really be undisturbed for large stretches of time.
A few of the most beautiful and most swimmable beaches are Pigeon Point (small fee required to enter), the ever popular Store Bay and Castara Bay.  You can easily laze the day away at any one of these; food and other amenities are steps away.  Our fave for great local food is Store Bay at Miss Alma's!
If you'd like to go off the beaten path, head to Pirate's Bay, which is best accessed via guided boat tour.  You can also access it via a very long staircase down, however be prepared to climb back up after lazing the day away!
#1: De Fooooooood!
We love the food in Tobago.  There it is, plain and simple.  You can get every cuisine at many different price points, so there is defintely something for everyone.
At the top of the list, is delicious seafood; fresh fish, huge shrimp and lobster (at decent prices).  For land lubbers, try local stewed chicken (also called brown stew chicken on other Caribbean islands) or grilled lamb.  Although it's not as easy to find as in Trinidad, you can get some good roti and doubles too!
A few of our faves: Makara in Buccoo (fine dining with a view), Jemma's Treehouse or Bird Watchers in Speyside and the Blue Waters Inn (go for a fantastic breakfast)!
Hope you enjoyed that!
That's it for our top 5 things to experience in Tobago.  If you'd like to join us for the next Tobago adventure, Ultimate Bago Carnival, click here to visit our website.  Our registration will close on March 30; hurry and grab your spot!
Now over to you:
Got questions about visiting Tobago?  Leave it below!
Til de next lime,
Esha and Tarik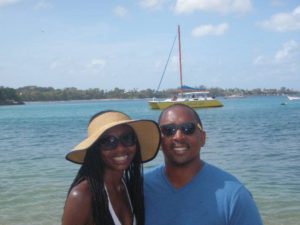 About Esha and Tarik:  Founders of Events by Ashé, a company that provides unique and life-changing Caribbean Experiences, Esha and Tarik are passionate about the Carnival lifestyle.  They even met during Trinidad Carnival back in 2006!  They are so passionate about Carnival that they created Ultimate Trinidad Carnival and Ultimate Crop Over to share these experiences with hundreds of clients around the world.  Visit their website by 
clicking here
 or click the links below to learn more!
You may also like: