#4 of the top 10 things to experience during Trinidad Carnival
Thanks for stopping by! Welcome to our blog where we help busy, professional women discover new cultures, attract what they want, love themselves and be comfortable in their own skin. We're now in the homestretch of our top 10 things to experience during Trinidad Carnival with #4 on the list, which is about 1 of our fave places on Earth – Tobago!
Want to learn more about the island of Tobago? Check out this video!
Thanks for watching!
If you're ready to go to Tobago, why not come with us? We have 2 travel experiences for you:
Our newest Carnival experience is Ultimate Bago Carnival 2023! Tobago's Carnival is wonderfully unique with a parade that passes right by the Caribbean Sea, the dutty Mud Festival and of course, all of experiences I mentioned in de video. Click here to find out more about the next Ultimate Bago Carnival Experience – registration is open!
As a part of our Tobago Love Upgrade, you can experience this amazing island at Ultimate Trinidad Carnival 2024. Although registration opens on Jan 31, you can click here to see our Ultimate Trinidad Carnival packages now.
In case you missed it, here's the rest of the top 10 things to experience during Trinidad Carnival countdown:
Now over to you:
What would you like to do most in Tobago? Dance in the Nylon Pool, lime (and eat!) at Store Bay or sail on the Caribbean Sea? Leave us a comment below with the details!
Til de next lime,
Esha and Tarik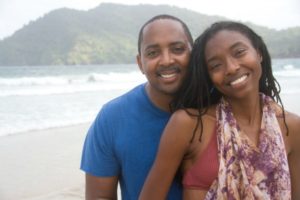 About Esha and Tarik: Founders of Events by Ashé, a company that provides unique and life-changing Caribbean Experiences, Esha and Tarik are passionate about the Carnival lifestyle. They even met during Trinidad Carnival back in 2006! They are so passionate about Carnival that they created Ultimate Trinidad Carnival and Ultimate Crop Over to share these experiences with hundreds of clients around the world. Visit their website by clicking here or click the links below to learn more!
You may also like: