St Lucia Carnival 2023 Recap
Hey! You're in the right place if you're curious about how St Lucia Carnival 2023 went. We were there in July, had SO MUCH FUN and learned a lot about St. Lucia along the way!
We've separated this recap into 3 parts: De Events, De Parade and Other Tings We Loved. Let's get into it, shall we?
De Events
Since this was our 1st St. Lucia Carnival, we tried to squeeze in as many events as we could to sample a wide variety. We did lots of partying, sightseeing and took in a lot of the local flavor of the island. It was all awesome!
Out of all of the fêtes (parties) we did, Indulgence was our fave. It's a breakfast fête. The theme this year was Pink and Prosecco and yes, it was bougie (and yes, we love dat!) Everyone showed up in their best pink outfits, including the men! In fact, I personally think the men outdid themselves; it looked like they really put thought into their outfits and showed out 🙂
The event started a lil late, but what they missed in punctuality, they made up for in vibes, layout and the general wow factor, that so many fêtes miss. There were several areas and tents to get breakfast (including local breakfast dishes – yum!). And you never had to wait too long for a drink in those pretty cups that were tinged a rose gold colour.
Of course, like all good fêtes, once bellies were full, de bacchanal started! There were live performances by local artists, including Road March Winner, Imran Nerdy.
Other events that we enjoyed: U4Ria Fête, Colour me Red, Mess J'ouvert, Gros Islet Street Party (it was a whole vibe and the food was great) and the lovely Land and Sea Tour*.
Here are some pics from the events mentioned!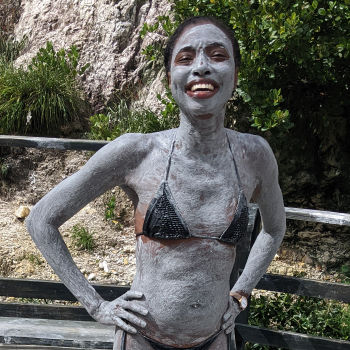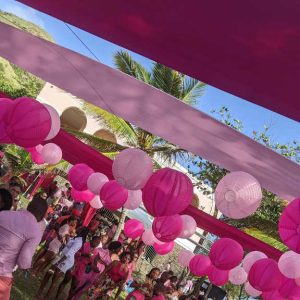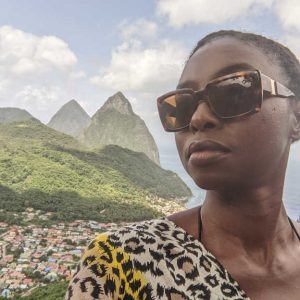 De Parade
There's so much to say about the Parade! It was such a cool experience. Vibes were on point with Just4Fun Carnival. Although costume pickup was a little rough, they more than made up for it with the road experience. We had a lil side eye with the bar selection (there is definitely room for improvement there), but they were never crowded and it was easy to get drinks.
The Parade is 2 days like Trinidad and Grenada however, the days are "backwards". Carnival Monday is full costume day and Carnival Tuesday is the casual day where you can wear what you want. We were skeptical, having experienced Carnivals one way for over 20 years. However, we were pleasantly surprised! We actually enjoyed getting the costume out of the way on the 1st day and then just having the last day of the Parade to get all de heavy jammin' in (lol).
Lunch was on de go, so there were school buses with a diverse selection of food to choose from. You just had to be patient and then you were rewarded with yummy food (can you say bess corn soup??) In fact everything we ate in St. Lucia was great!
Another thing we really liked about the St. Lucia Carnival in general was the local soca that was proudly played everywhere! Songs by local artists like the Road March Winner, Imran Nerdy and the close runner up, Ezra Da Fun Machine were in heavy rotation and kept us moving. Miss Grippy by Shemmy J was a crowd fave as well.
For the Carnival newbies, know the St. Lucia Carnival Parade is very manageable. It starts at the Choc Roundabout and continues into Castries, the capital, where the stage is (yes, there's an actual stage to cross!) There's also lots of vendors in Castries to get local fruit and food from, which we loved. Then, the Parade takes a big loop right back to the Choc Roundabout. In total, it's about 5-7 hours, tops!
Were there hot bodies, you ask? Yep, the eye candy was in full effect and there was plenty nice man (and woman) to wine up on! Here are some pics from the parade, including a pic with Skinny Fabulous 🙂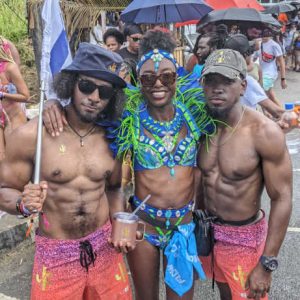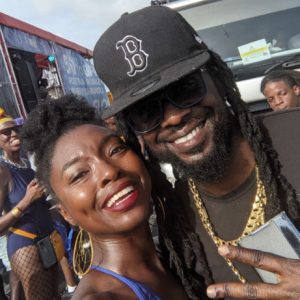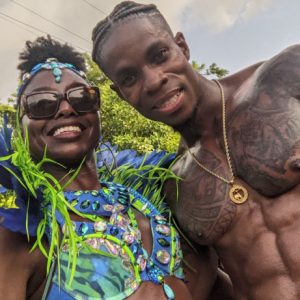 The Other Things We Loved
Gros Islet Street Party: this event was definitely one of the highlights of our visit! The Gros Islet Street Party happens EVERY single Friday night. It's a lively and wonderful sight, with all of the local restaurants and bars serving their best, street vendors selling everything from jewelry to artifacts, all leading to the center of town with a huge sound system playing music from around the world. Everyone moves to this center hub to dance in the street to the beats, drinks in hand, having a great time!
Harbor Club St. Lucia, Curio Collection by Hilton (and other properties): we loved staying at the Harbor Club. From the great staff, to the comfortable rooms, to the amazing food, it truly is a great property. Hint: staying in the Rodney Bay and surronding areas is most ideal since it's close to all of the fêtes and is an easy drive to the start of the parade. Other great properties we visited in this area: Bay Gardens Beach Resort and Spa, SoCo House (these are both black owned) and Mystique St. Lucia by Royalton.
Project Chocolat: this is a tourist attraction located on the south end of the island and is worth the visit. It's billed as a unique tree to bar chcoclate experience and who doesn't want that? And we'll let you in on a secret: this is included in our Chocolate Love Upgrade in our next Ultimate St. Lucia Carnival Experience!
Sulphur Springs: last, but certainly not least, the sulphur springs left our skin feeling like silk. The suplhur springs is 1 of a few springs like this in the world. They flow from an active volcano and the waters are known for their healing properties. We recommend arriving in your swimsuit and cover up. After you put your items in the provided holding area, you get lathered up in mud and then get into the warm sulphur springs water. It was so relaxing!
Thinking about St. Lucia?
Then you need to come along with us during the next Ultimate St. Lucia Carnival Experience! The travel dates of our 5-night Premium Experience are July 12-17, 2024. You won't have to plan a thing. Just pack, show up and enjoy this beautiful country to de fullest. Registration is now live, so click here for more details.
Thanks fuh reading!
Til de next lime,
Your Events by Ashé Team
*This post contains an affiliate link to Viator. We'll earn a tiny commission should you book on Viator's website.
About Us:
Events by Ashé is a company that provides unique and life-changing Caribbean Experiences and we're all passionate about the Carnival lifestyle. The Founders, Esha and Tarik, even met during Trinidad Carnival back in 2006! We're so passionate about Carnival that we've created Ultimate Trinidad Carnival, Ultimate Spicemas and Ultimate St. Lucia Carnival to share these experiences with hundreds of clients around the world. Check out more below or visit our website by clicking here
!
You may also like: