Ultimate Crop Over 2023 Recap
Hello there! We're still reminiscing about our Ultimate Crop Over 2023 travel experience. Come enjoy our Barbados Carnival memories by reading below!
We've separated this recap into 3 parts: De Events, De Parade and Other Tings We Loved. Here we go…
De Events
Where do we start? From Limerz, to a cooler Fête, to Savvy Beach Lime and so much more, we had a great time around the island of Barbados! Barbados is such a beautiful island to begin with and adding in the warm and genuinely friendly people, every event on the itinerary was a win-win-win.
De best event (if evidenced from our clients' laughter, dancing and smiles) was definitely Limerz. Allyuh, I don't know what they put into those cups, but it's a heady combination! Picture it: the sunshine (with a short, likkle sprinkle of rain), the top deck of a very large boat, surrounded by beautiful people, who are all vibin' – no drama, no stush behaviour – throw in de pumpin' soca music and you have a recipe for a GREAT time!
Also on the itinerary was:
Foreday Morning (Barbados' J'ouvert), Lush Cooler fête (great, local crowd with good performances and a wicked rum punch), a 3-course lunch at Tides Restaurant (food was amazing although the service was slow), Oistins Fish Fry with Grillin' and Chillin' (can you say lick yuh fingers good seafood?), Savvy Beach Lime (this spot was excellent for a nap, wonderful swimming, good food and strong drinks) and last, but certainly not least, our Tiami Catamaran Cruise (again, there was dangerous rum punch involved).
Phew – that was a lot. Here are some pics from the events mentioned! We also ran into Bunji Garlin (de gyal dem darlin') 😉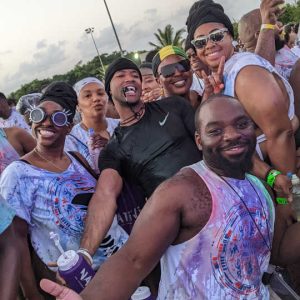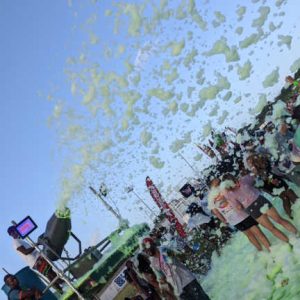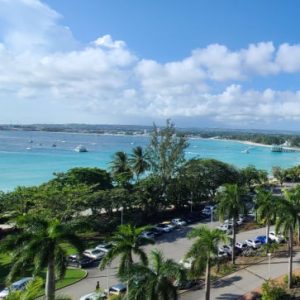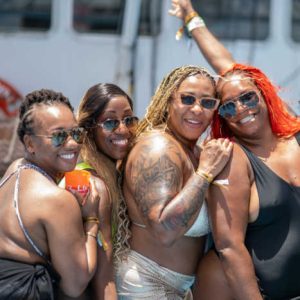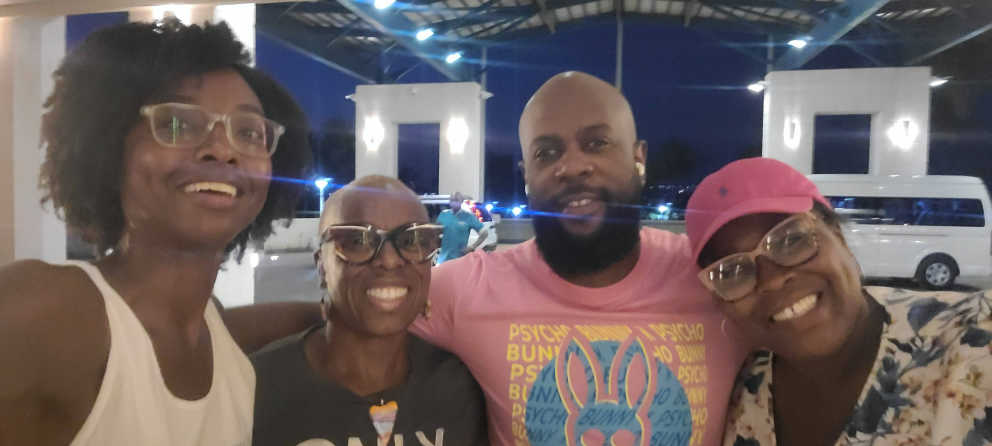 De Parade
Back to its former glory, the Barbados Crop Over Parade (also called the Kadooment Parade), made all right with the world! We had a fabulous road experience with Aura, an all-inclusive band house in Barbados.
We started the day off with Carnival makeup and a photoshoot with our Ultimate Crop Over clients. Everyone was looking wonderful in their costumes. A quick hop into the transportation and it was off to meet Aura.
There was some serious rain to start the day off! We cannot remember the last time it rained during the Kadooment Parade, but it really poured! Although our road experience was delayed due to heavy rain, once it stopped, the skies cleared up and it was time to party.
As we mentioned…
Aura is all-inclusive, so drinks and food are included. The DJs were on point with nice vibes from the masqueraders! A few of the soca faves were: Brain Freeze by Leadpipe x Jus-Jay King, De Party Mad by Lil Rick (also Mind Off) and Holiday by Problem Child (personal fave).
Because of the late start, the later hours of the parade ensured that locals lined the streets as we passed by. That slowed Aura down, but that meant more time to wine and jump up!
For the newbies to Crop Over, the parade route is a trek; you definitely need to be physically ready to handle it. One of the things our clients really liked about Aura was the VIP amenities – an air-conditioned bar and rest area was 1 of them. We would highly recommend this if you don't think you'll be able to handle the Kadooment Parade.
Here are a few pics!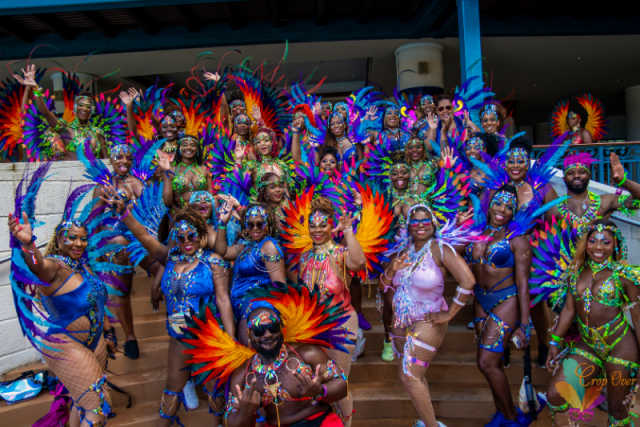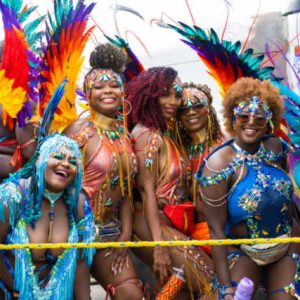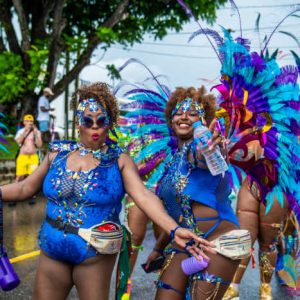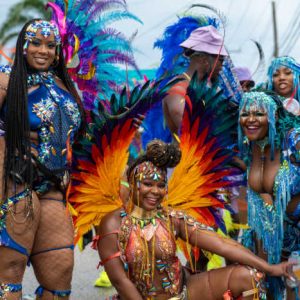 The Other Things We Loved
Foreday Mornin' with Native Caribbean. Native did it again! From de wotless behavior, huge drink cups, bubbles, water and de rhythm section, it was an entire movie from start to end and oh, so much fun.
A very special mention of Bliss Café! They are a black, family owned and operated business serving up great breakfast food, all beautifully presented and made with love.
We also loved this video of Kathleen, letting us know how her Ultimate Crop Over Experience was:
Want to know more about Barbados Carnival?
Join us for our next FREE webinar – 3 Things to Know About Barbados Crop Over. We'll let you know what are the top 3 things you need to know about this amazing festival! You'll also get a sneak peek of our next Ultimate Crop Over experience; we'll make it super easy to get there. Click here to register for free.
Thanks fuh reading!
Til de next lime,
Your Events by Ashé Team
About Us:
Events by Ashé is a company that provides unique and life-changing Caribbean Experiences and we're all passionate about the Carnival lifestyle. The Founders, Esha and Tarik, even met during Trinidad Carnival back in 2006! We're so passionate about Carnival that we've created Ultimate Trinidad Carnival, Ultimate Spicemas and Ultimate St. Lucia Carnival to share these experiences with hundreds of clients around the world. Check out more below or visit our website by clicking here
!
You may also like: